Halftime for the Sustainable Development Goals 2016-2030
In 2015, all the worlds' governments signed on to the Sustainable Development Goals (SDG): 17 goals and 169 targets to be achieved by 2030. On current trends, it will actually take more than 63 years to reach them all. At the halftime point to 2030, it is timely to consider if resources can be spent better. If we can't do it all, can we do better with what we have?
The goals go from 2016 to 2030, meaning that in 2023 the world is at halftime, yet nowhere near halfway. We are failing on most of our promises. That's why we started the Halftime project. Building on our previous project for the start of the SDGs we have investigated more than 100 potentially great policies to find the very best solutions. Now that we're at halftime but nowhere near halfway, we need to focus first on the very best policies.
First, we need to prioritize which targets matter most. For most people, less hunger and better education matters more than well-meaning pledges of increased recycling and global awareness of lifestyles in harmony with nature (two of the 169 targets).
Second, we need to acknowledge that some challenges can be fixed with cheap and simple policies and some cannot. Promising peace and an end to all violence, crime, and corruption is laudable, but it is likely impossibly difficult to achieve, and there is little knowledge of how to get there.
In contrast, we know how to fix many pervasive problems effectively at low cost. Tuberculosis is entirely treatable and has been so for more than half a century, yet it still quietly kills more than 1.5 million people annually. While nine out of ten rich country 10-year-olds can read and write, only one-in-ten can do so in the world's poorest countries. And each year, more than two million children and 300,000 women die around childbirth. All these problems have cheap, effective solutions. They should get our full attention, but don't.
The doable dozen
Over the last years, the Copenhagen Consensus Center has worked with the world's top economists to establish where each dollar, rupee or shilling can be spent on the SDGs to do the most good. The extensive research behind each of the 12 most efficient policies that can dramatically improve the lives of those living in the poorest half of the world. These proposals are concrete, achievable, relatively cheap, and incredibly efficient, and many can start delivering results already the year after we allocate the resources.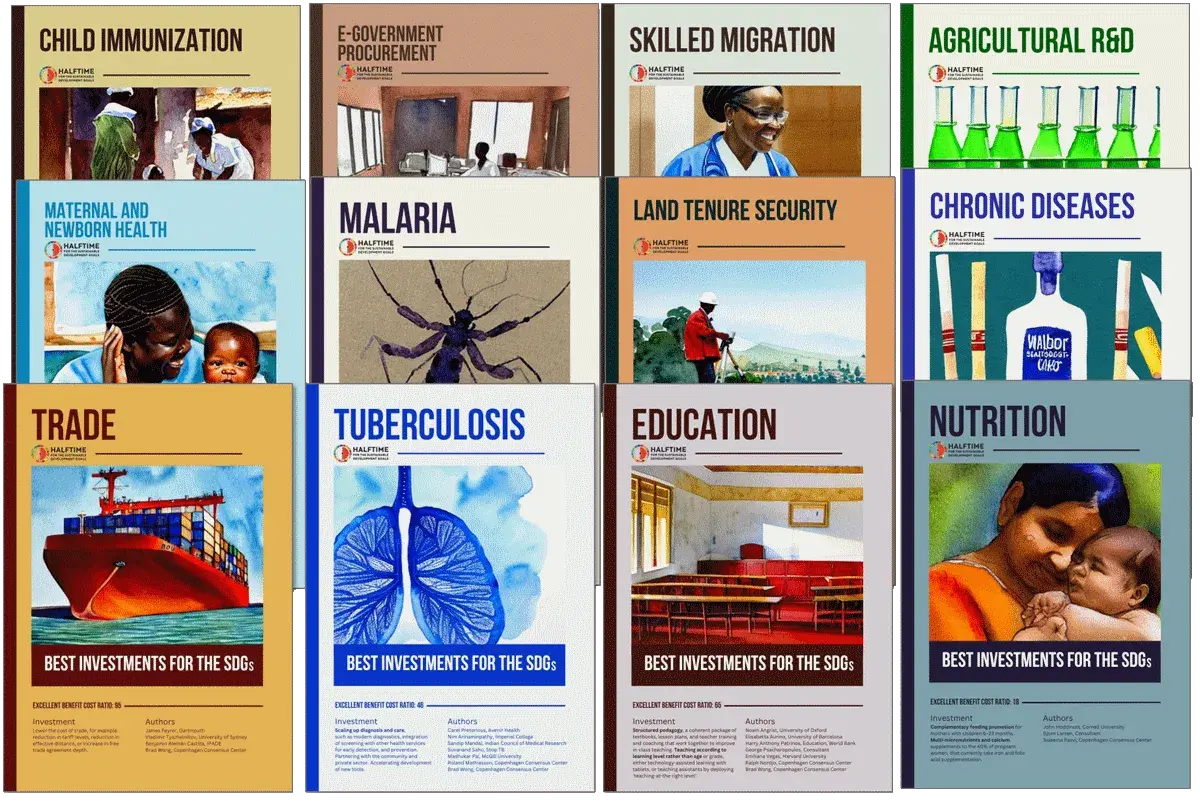 Can we afford it?
The 12 best policies to scale up, that our experts have identified, cover a wide range of areas: tuberculosis, education, maternal and newborn health, agricultural research and development, malaria, e-procurement, nutrition, land tenure security, chronic diseases, trade, child immunization and skilled migration.
The benefit of these 12 best policies can really only be described as momentous. It will save 4.2 million lives each year and generate $1.1 trillion in additional economic benefits each and every year for the developing world.
The yearly cost of $35 billion looks smal when you consider what the world spends in other policies areas. We devote more than $1.1 trillion to low-carbon energy, $2.1 trillion to military expenditures and $5 trillion to education. These smart policies would require just 3% of our climate spending or less than 1% of our education spending.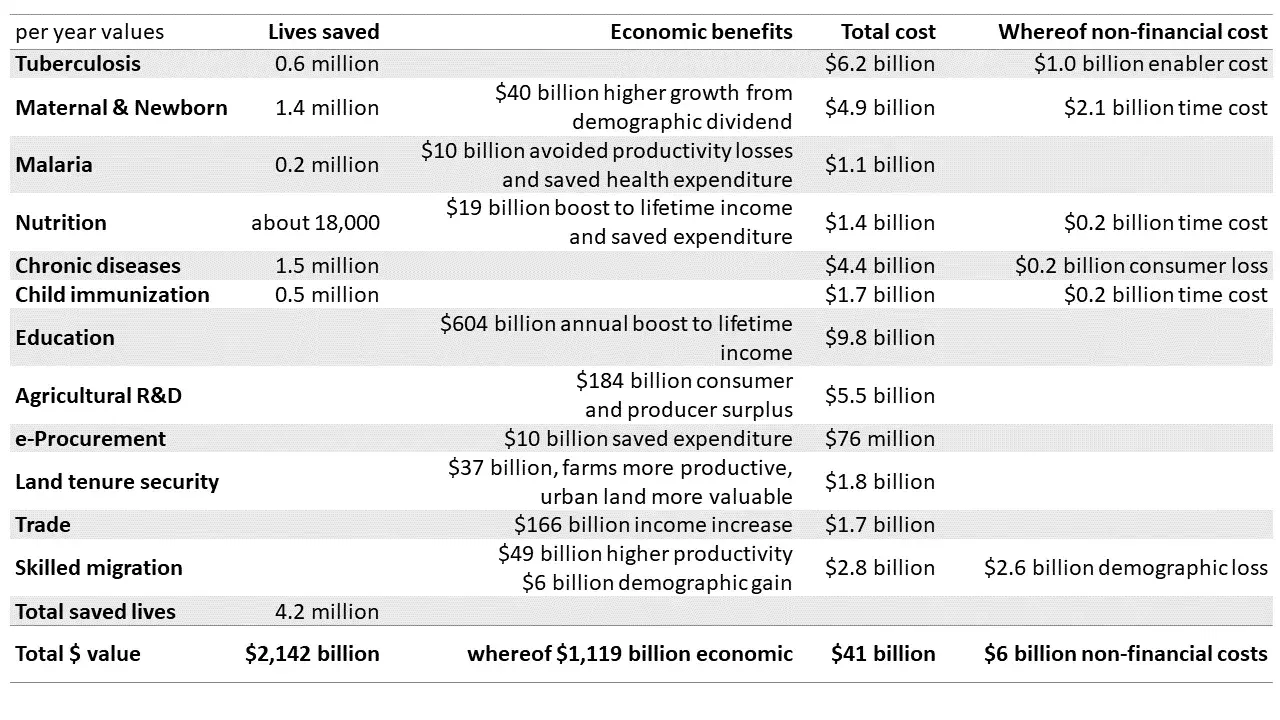 12 Ways the Planet Could Truly Be Saved
Dr. Jordan B. Peterson and Bjørn Lomborg go through each of the "doable dozen," a series of issues that cost relatively little to solve, and yet doing so would yield exponential returns for developing countries and their impoverished citizens.
Good fellows: Why do we need to prioritize?
In this video Bjorn Lomborg discusses why and how we need to focus on the best things first in order to make the world a better place with Hoover senior fellows John Cochrane, Niall Ferguson, and H.R. McMaster
Munk Dialogue on how to actually meet Sustainable Development Goals
On this Munk Dialogue, you hear Bjorn Lomborg, President of The Copenhagen Consensus, who argues that we need a total rethink in how we tackle and overcome our biggest challenges.  This new strategy, the culmination of a partnership between several Nobel laureates and more than a hundred leading economists. Bjorn narrows down a few high impact, low cost solutions that will deliver real world results.
PBD Podcast: What are the biggest problems in the world?
Patrick Bet-David is joined by Bjorn Lomborg, Adam Sosnick and Tom Ellsworth.