Research
All 12 peer-reviewed best investment papers will be released below during the spring of 2023. The papers will be published in a special issue of the Cambridge University Press Journal of Benefit-Cost Analysis (2023 Volume 14 Issue S1).
Agricultural R&D
Agriculture has been central to humanity for thousands of years and remains the largest economic sector in many low- and lower-middle income countries. Improving the performance and output of the agricultural sector is therefore central to global development aspirations. 
Their research shows that investment in R&D can result in more food being produced and supplied to people at relatively lower prices, meaning it will also make inroads against hunger. Because research and development benefits everyone and has benefits far into the future, it is often hard for private actors to capture much of this benefit, which is why much of this investment has not happened already − so governments need to step up.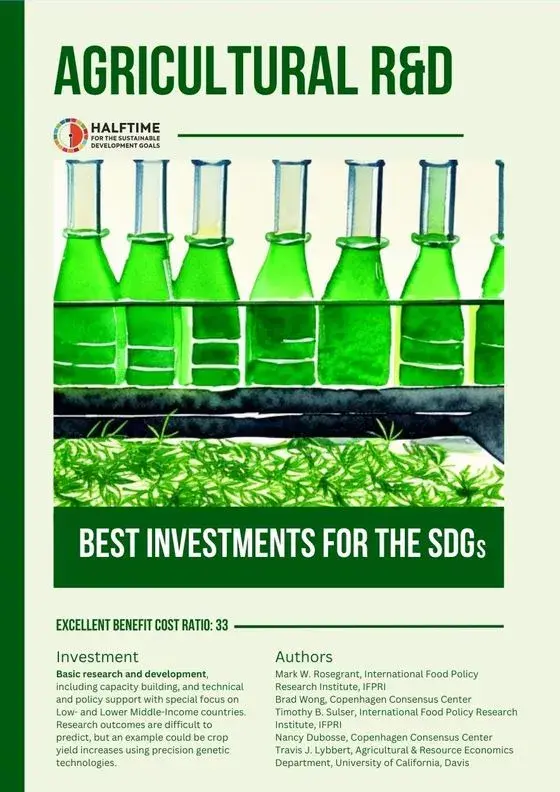 Childhood immunization
Since time immemorial, infectious diseases have caused immense heartbreak, taking countless lives, particularly of young children. In vaccines, humanity has a miraculous tool to turn the tide. One of the most successful public health interventions ever, inoculation saves millions of lives each year. 
Yet, we can do even better. Vaccination rates have faltered amid disruptions from COVID and lockdowns, anti-vaccination concerns and scare-mongering, general funding scarcity. With only a relatively small investment of $7.6 billion, world leaders can save 4.2 million lives – mainly of children – from highly infectious and deadly diseases. It's one of the best possible investments that we can make.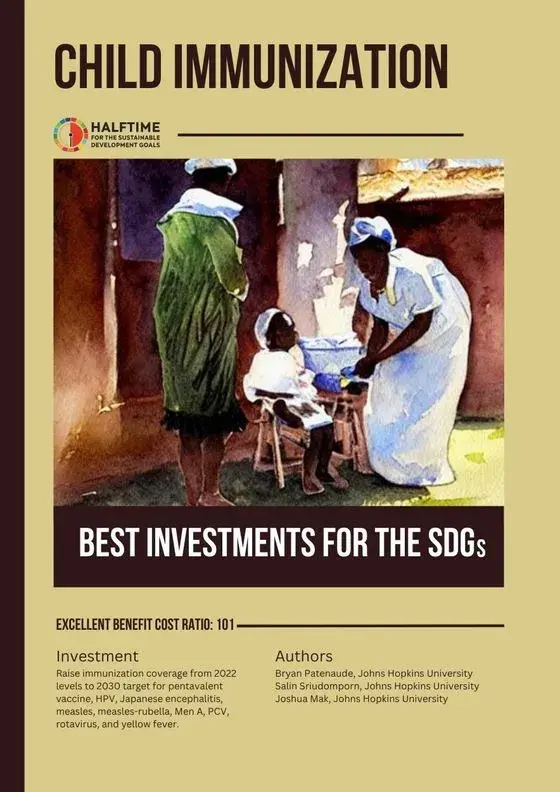 Maternal and newborn health
Today, about 63% of all women in these 55 countries give birth in a health facility. To get to 90%, that opportunity needs to go to almost 19 million more women each year, at a cost of $550 million annually. But even when she is at the facility, many of the services are missing.
It may seem reasonable to expect that all institutional births would have a clean birth environment, but one survey shows that a third of these institutions lack water and soap for healthcare providers and patients to wash their hands, and one-fifth have inadequate sanitation. Many lack disinfectant to wash down surfaces, common areas, bathrooms, and toilets. It turns out that more money for cleaners and staff are needed to make a clean birth environment available for an additional 27 million women each year.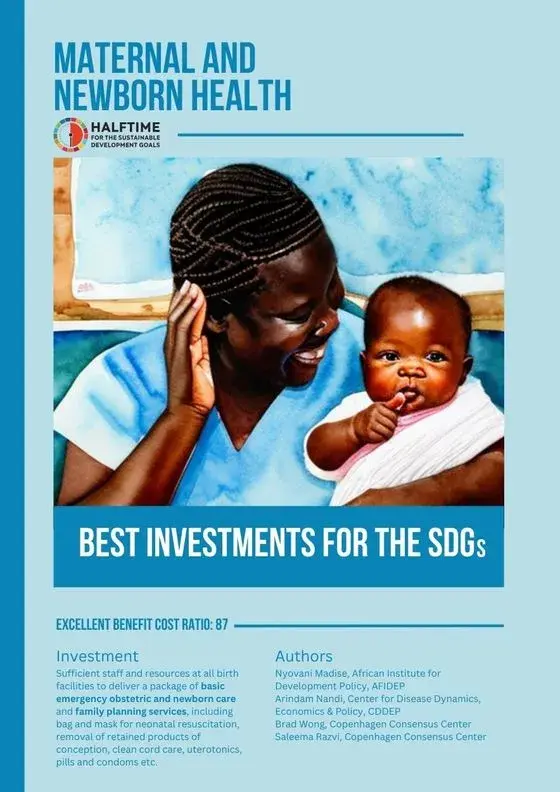 e-Government procurement
Corruption of public procurement is particularly damaging because, in almost every nation, the government is by far the largest buyer of works, goods and services from the private sector. Total public procurement amounted to $13 trillion in 2018, or approximately 14.5% of global GDP. Public procurement is even more important in low and lower-middle income countries.
Ensuring e-procurement is adopted for the rest of the low and lower-middle income world is not a given, but the research clearly shows that not only is it eminently doable, but it is also very likely to be one of the world's most efficient solutions.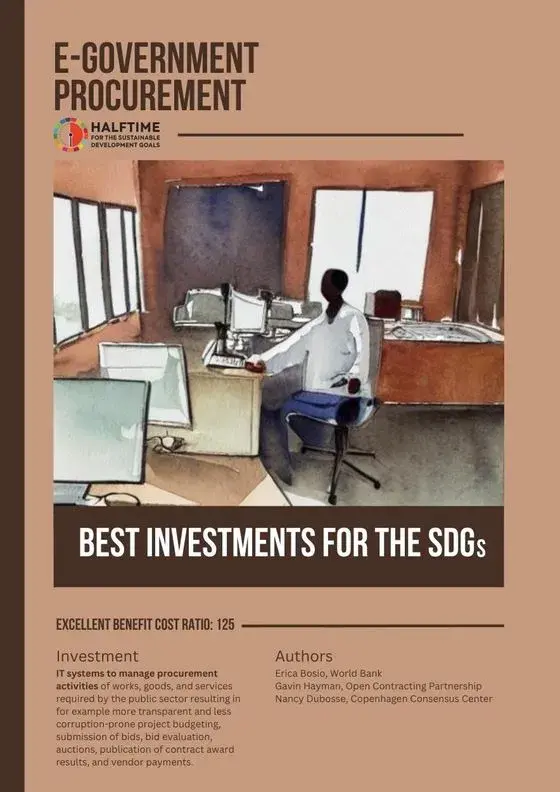 Tuberculosis
In a pattern that's played out with other devastating illness like HIV/AIDS, malaria, and even COVID, once incidence of tuberculosis began to decline in the rich world, those nations moved on and reduced investments in new tools and programs. However, instead of truly disappearing, tuberculosis has just become less visible to people living in rich countries. It's long been within our reach to make TB history, but global dithering has allowed the disease to become a silent killer of the world's worst-off.
That chance to save millions of lives still exists and as the world comes close to failing on yet another promise to stop tuberculosis, we should take this opportunity to finally end its scourge. A policy that improves diagnoses and prescription adherence has the potential to do incredible good in the world—an exceptional return on investment.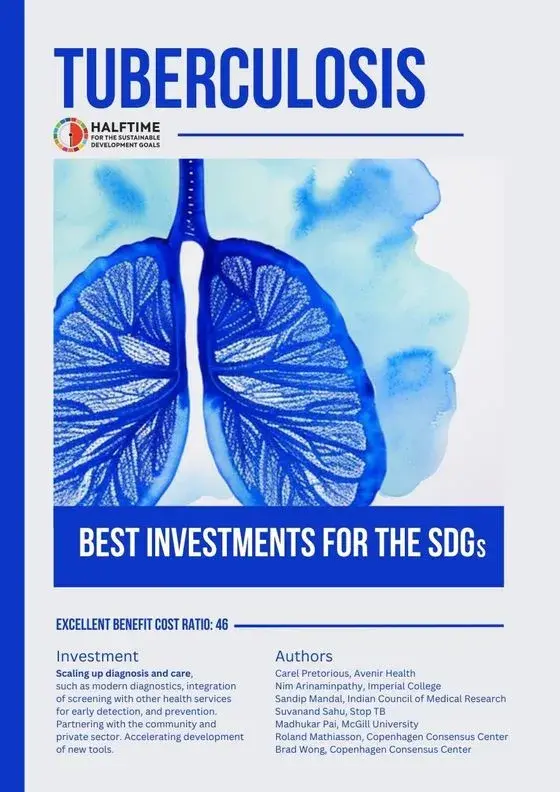 Nutrition
Although the share of the global population starving has dropped dramatically over the past century, nearly a quarter of the world's children still don't get the nutrition they need to flourish. In addition to making kids more prone to sickness and death, malnutrition can hamper cognitive and physical development. This not only saddles these children with long-term difficulties, but it also hurts societies by lowering people's productivity. Yet, there are a few ways that policies can improve nutrition where it matters most, at low cost.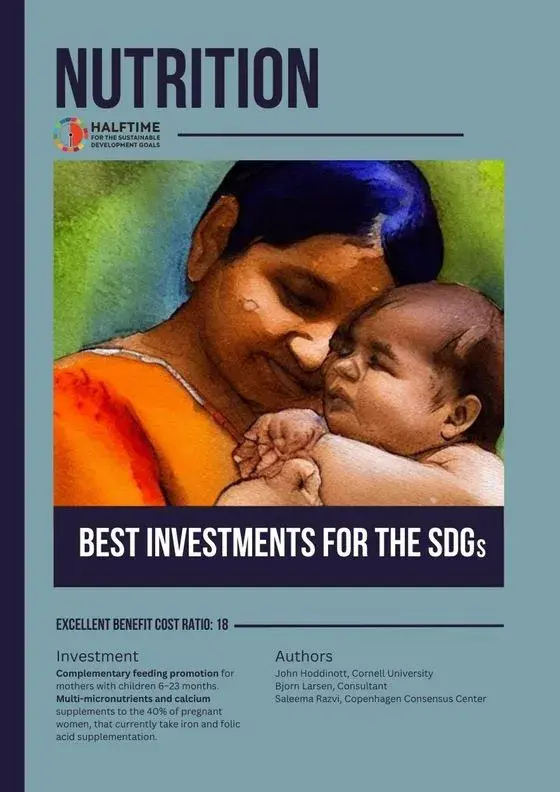 Trade
Free trade receives a much colder welcome in many quarters than it would have a few decades ago. In developed nations, particularly, political thinkers scattered across the political spectrum increasingly highlight the downsides of opening trade, emphasizing the losses for domestic and foreign workers alike. They're right that there are real costs that should be considered seriously, but that's only part of the picture. The peer-reviewed research for the Halftime project conducts groundbreaking analysis that finds that even accounting for these costs, trade still offers a good deal for the most affected, rich countries, and for poorer nations, it's an incredible one.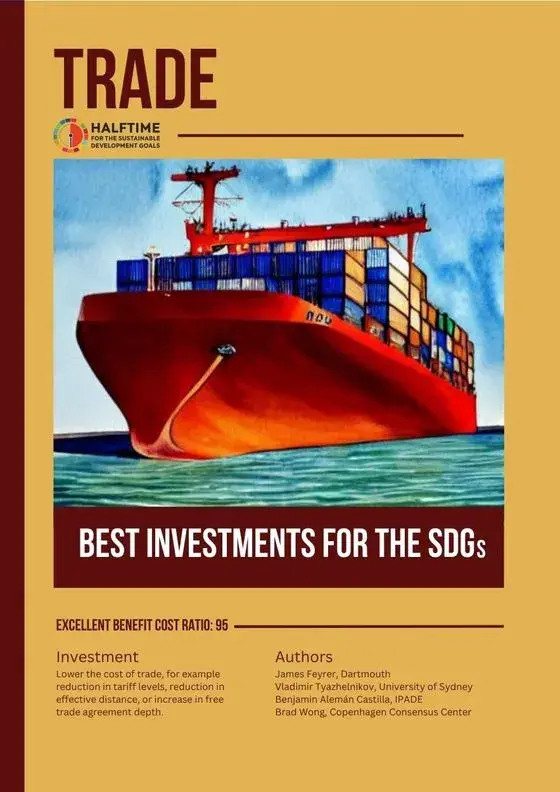 Chronic diseases
Worldwide, the most likely cause of death today is some form of chronic degenerative disease, particularly cancer or heart disease. This shift, known as the epidemiological transition, first hit rich countries and is now moving through poorer ones. 
Smart policies to tackle heart disease and the impacts of tobacco and alcohol use turn out to be a very efficient way to save 1.5 million lives annually.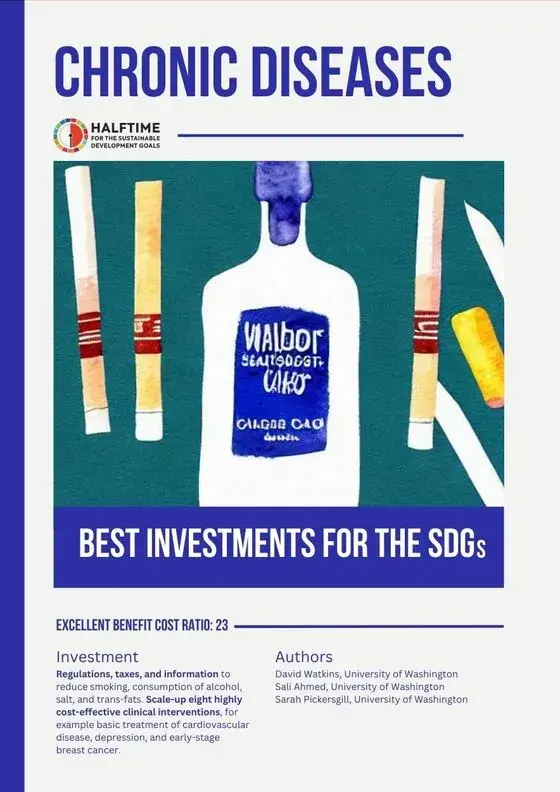 Land tenure security
If you live in the rich world, you likely take for granted the fact that you're extremely unlikely to wake up one day and find that your home is being taken away for no reason whatsoever. That security is far from given in the poorer parts of the globe. While most people in high-income countries are protected by legally binding documents proving they own or have agreements to rent the place in which they live, land tenure is much less secure in less affluent nations. In fact, the World Bank estimates that 70% of people have no access to formal land registration systems.
Not only does this insecurity make life far more stressful, but it also weighs down economic development in a variety of ways, including making homes less valuable because you may not own them and lowering crop yields by discouraging farmers from investing in wells or irrigation. If policymakers provide greater confidence that people can't be kicked off land they've paid for, remarkable economic potential could be unlocked along with a great deal of social good—a fantastic return on what's a comparatively small investment.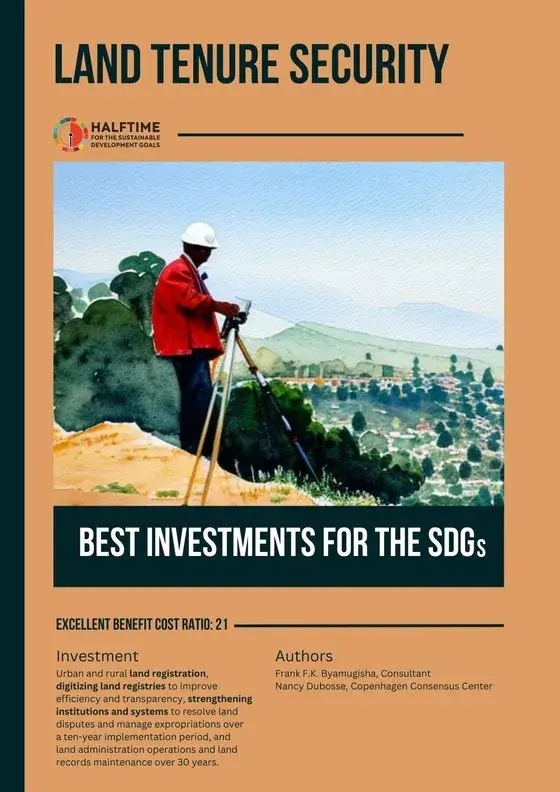 Malaria
Malaria was once a scourge across nearly the entire inhabited world. It was endemic in 36 US states including New York and Oregon. Thanks to medical advancements, insecticides, and development, we have succeeded in eradicating the illness in many places. However, although we know how to get rid of it, malaria remains endemic in sub-Saharan Africa killing 600,000 people every year.
Malaria can be a debilitating disease, draining adults and youths of their vitality and diverting resources to their care, even in the majority of cases when it does not claim lives. The progress that we have made against malaria elsewhere urgently needs to be replicated across sub-Saharan Africa.
For a relatively small investment of $1.1 billion annually, we could avoid 200,000 deaths each year, delivering $48 of benefits for each dollar spent.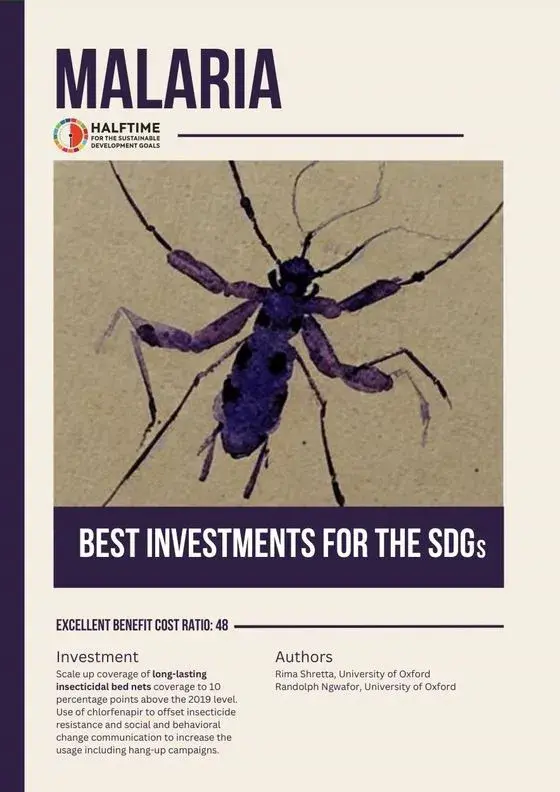 Skilled migration
Most of us would agree that it's a noble goal to lessen global economic inequality and improve the standards of living in poor parts of the world. The SDGs have promised to reduce inequality within and among countries, but within countries, it is slow going. On current trends, we'll miss the 2030 deadline by more than two centuries.
Economic evidence shows that one of the best ways to reduce inequality between nations is to allow workers to migrate to rich countries, where they will be much more productive. But such a radical immigration policy is unlikely to be acceptable to a majority of voters in most developed nations. Happily, there's a more moderate solution that can still enrich the world and reduce inequality between nations: Increase highly skilled migration by 10%.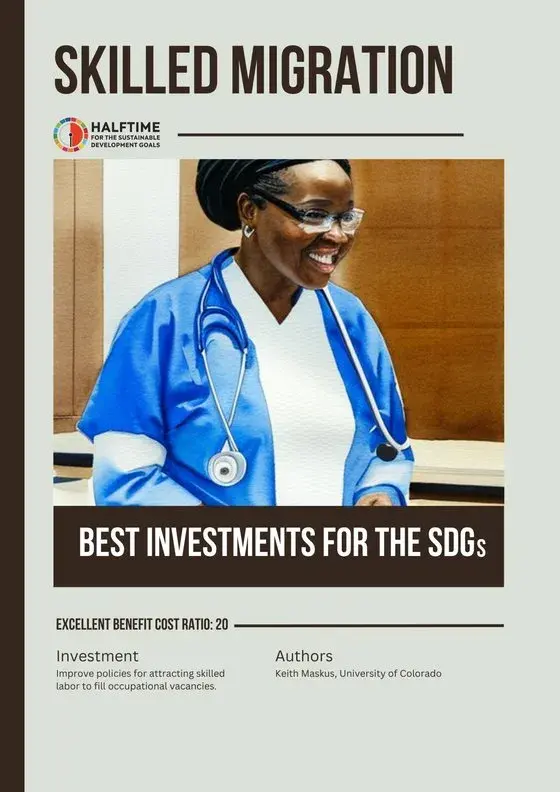 Education
While almost everyone would agree that a good education is vitally important, schooling systems in low- and lower-middle-income countries are mostly failing to teach children basic reading and math. They have managed to get most children into school, but children are not learning. Almost 80% of students—half a billion—are not even achieving minimal skills. Although the poorer half of the world has almost doubled its spending on each primary school student since 1990, learning levels have remained low. 
Fortunately, this best investment paper identifies three policies that can dramatically increase basic reading and math proficiency for a comparatively small cost.