Being Father, Mother, and an Outcast
Investing in HIV prevention is a sound use of scarce resources, to stop Helen's youngest children from suffering the harsh life that she is leading. Time is running out. The biggest danger is that the world does not...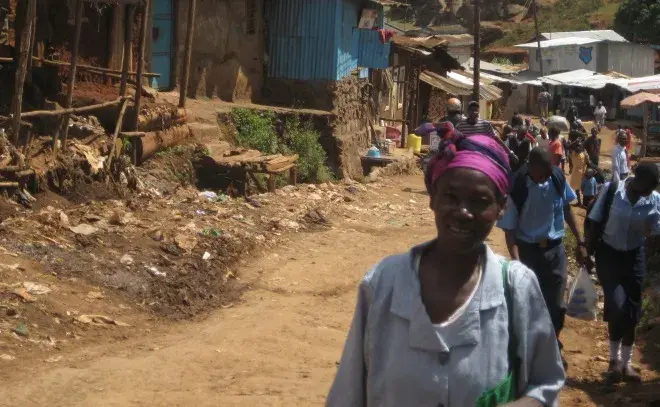 Helen Moraa, Kenya
For eight years, Helen Moraa's neighbors have avoided her and stopped her from touching their children. Even here in Kibera, the largest slum in Africa, where one million people scrabble to survive, there is a social hierarchy. Diagnosed as HIV-positive in 2001, Helen is at the bottom of it.
She attends meetings in the slum for women who are HIV-positive. They sell hand-made necklaces and bracelets, share their worries, and try to educate their neighbors about HIV/Aids.
Achieving social acceptance is far down the 45-year-old widow's wish list, however. She dreams of something much more basic: having a bath for her and the five children she takes care of (three of her own, a niece and a grand-daughter), so they do not have to pay five shillings a time to share a rudimentary shower with dozens of neighbors. "It doesn't even have to be a bath with running water," she says.
In a slum with no latrines or running water, no electricity, no rubbish collection, no infrastructure, totally inadequate housing, no repairs or maintenance, and open sewers filled with stinking, raw sewage, such a basic thing as a private bath is a longed-for – and highly improbable – fantasy.
Looking around, Helen says, "Only if God comes to Earth could the problems be fixed that we have."
Since her husband died of HIV/Aids in 1998, Helen has struggled to survive. "I am the father and the mother of the family."
For the past year, her son has not attended school because she cannot afford the 14,400 Kenyan shilling (€144) annual fee. In a good month, when her group sells a lot of necklaces and bracelets, she can make between 1,000 and 1,500 Kenyan shillings (€9 – €13). Sometimes, people from her church give her money.
When she suffers from complications related to HIV/Aids, she visits the local clinic. It is small, though, and offers only basic care. "You cannot stay to sleep there if you are sick. They send you home again."
Helen worries that her nineteen-year-old daughter, whose boyfriend died young, is also HIV-positive. But Helen's daughter refuses to get tested. Helen laments that young Kenyans are not conscious of the dangers of HIV/Aids.
It is too late to save Helen from the disease that is slowly claiming her life. It is not too late, however, to stop the youngest of her children from falling victim to the same disease.
Today, 1.2 million Kenyans live with HIV/Aids. More than 6% of adults are HIV-positive. The illness claims 150,000 lives a year. The Kenyan government and global organizations have made impressive in-roads, but it is not nearly enough.
There are those who warn that global warming will increase the number of people living with HIV/Aids. Last year, an Australian professor drew attention for saying that poorer agricultural production will mean poorer nutrition and thus people with fragile immune systems will be at a higher risk of dying of HIV, as well as contracting and transmitting new infections.
Frankly, we have a far more urgent problem than worrying about the tiny, future difference to HIV/Aids that will be caused by global warming (a problem, incidentally, that Helen Moraa has not heard of). Each and every day, 16,000 more people become infected with the killer disease.
A vaccine is probably decades away. Until then, the best approach is a combination of prevention techniques: condom distribution, treatment of sexually transmitted infections, male circumcision, and peer interventions among sex workers. Research done last year for Copenhagen Consensus 2008 suggested that every $2.5 billion spent would prevent 2 million HIV infections. Add up the benefits from things like the lower burden on health systems and more people in employment, and – in economic terms – that $2.5 billion achieves $30 billion worth of good.
Investing in HIV prevention is a sound use of scarce resources, to stop Helen's youngest children from suffering the harsh life that she is leading. Time is running out. The biggest danger is that the world does not make basic investments today that will mean that the world's most vulnerable citizens are better able to cope with tomorrow's problems when they come.
Researcher: Joana Socies