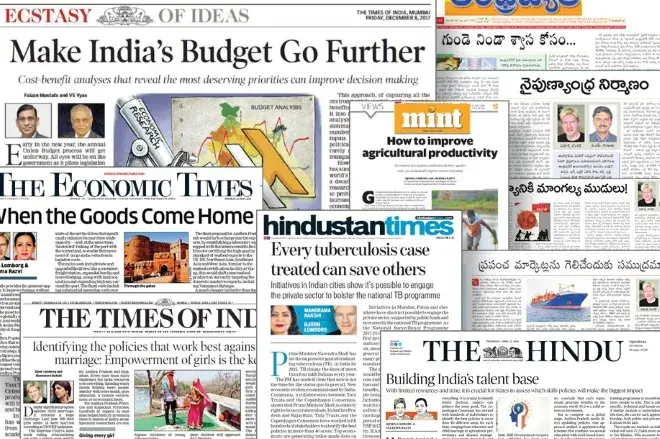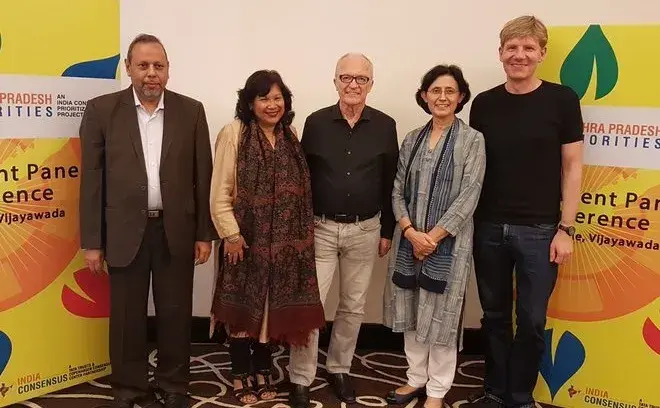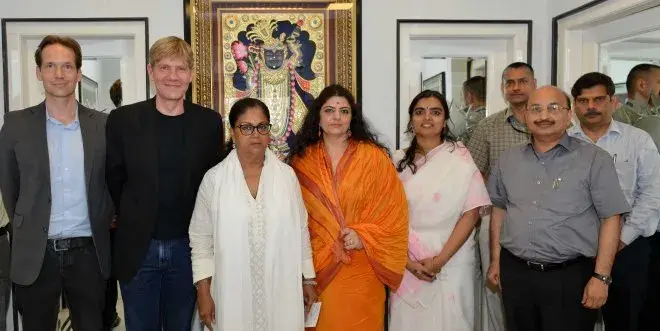 NITI Aayog and India Consensus collaboration
India Consensus prioritization methodology was presented at a NITI Aayog in Delhi to Planning Secretaries of 32 States and three Union Territories along with representatives from most ministries under the aegis of b...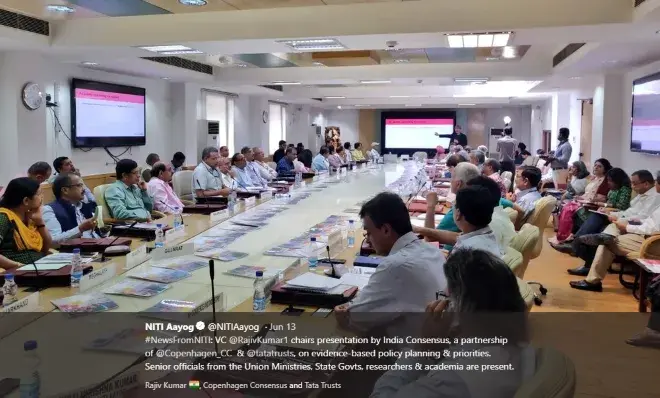 India Consensus
The India Consensus is a partnership between Tata Trusts and the Copenhagen Consensus Center. The aim is to identify the smartest solutions to some of India's most pressing development challenges. Studies will be conducted across a wide range of policy areas - from education, health and governance to trade, infrastructure development, and energy – through state wide prioritization projects.
The India Consensus' prioritization projects utilise the Copenhagen Consensus approach which has been refined over the past ten years to improve global and regional spending priorities and adapted to reflect the diversity and size of India.
At the rate India is growing, as much as an extra ₹4 lakh crore could be added to next year's public consumption. Where can these resources do the most good?"
The output showcases the academic evidence on where a State (or other organizations) can help do the very most social, economic and environmental good for every rupee spent.
Statewide Prioritizations Based on Evidence and Extensive Consultations 
The first statewide prioritizations were undertaken in Rajasthan and Andhra Pradesh over 2017 and 2018. Thousands of good development solutions were collected from consultations and sector expert roundtables across the entire development agenda. After further rounds of discussion, and with help of an academic advisory committee around 80 interventions were shortlisted for social cost-benefit research. Expert economists were identified and commissioned for the task, resulting in a library of peer-reviewed cost-benefit research estimating how much an additional rupee spent on each of these interventions will yield in terms of social, economic and environmental benefits. In addition sector experts from government and civil society were invited to comment on the analyses.
These two prioritization projects have united the best academic research, employing cost-benefit analysis, with sector expert input, broad and inclusive stakeholder engagement, and extensive policy outreach to evaluate and prioritize the smartest interventions. These results are helping inform decision makers in government, think tanks, civil society, and business as they set priorities for the years ahead.
All researchers presented their findings to an Eminent Panel consisting of prominent Indian and international economists. After studying and asserting the research they ranked each intervention creating a prioritized laundry list of where additional resources in each of the states should be focused to make the most possible good.
The final outcome of  Rajasthan and Andhra Pradesh Priorities were presented to Honorable Chief Minister and detailed discussion were held with larger group of Additional Chief Secretaries, Principal Secretaries, Secretaries and head of departments under chairmanship of Chief Secretary in respective State to chalk out the plan for further implementation of some of the identified high social value for money interventions.
Media Coverage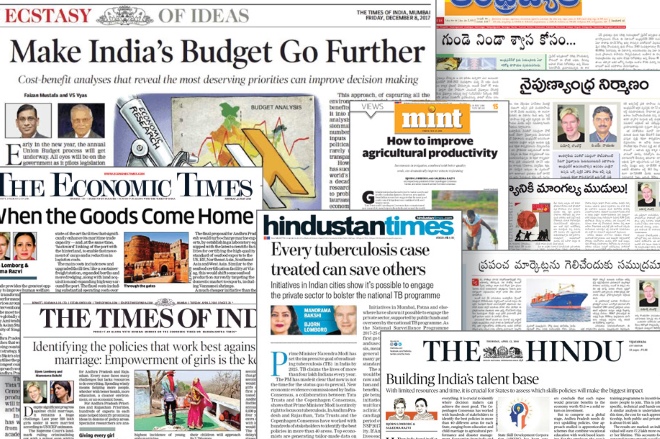 India Consensus is strategically working with media to get the research findings on cost-effectiveness for doing good out to a wider audience of decision-makers and opinion makers, and the interested public. These results have been profiled in Times of India, Hindustan Times, Navbharat Times, Hindustan Dainik, Andhra Jyothy, The Hindu, Mint, India Today, and Economic Times along with many others. The media coverage for each research topic can be found at appriorities.com/news and rajasthanpriorities.com/news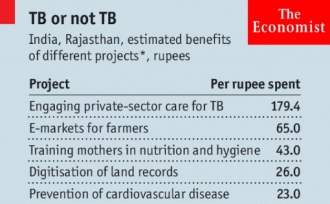 The Economist has a full article on India Consensus as their top Asia story in the 14th June edition. The online headline hits the nail:
Indian states are testing a new way of setting development priorities. Policy proposals are selected based on cost-benefit analyses, not the whims of politicians. "
Andhra Pradesh Priorities
As a new state, Andhra Pradesh faces a bright future, but it is still experiencing many acute social and economic development challenges. It has made great strides in creating a positive environment for business, and was recently ranked 2nd in India for ease of doing business. Yet, progress needs to be much faster if it is to achieve its ambitions of becoming the leading state in India in terms of social development and economic growth. 
With so many actors and the wide breadth of challenges from access to sanitation and clean water to rural development and agriculture, women's health and infant nutrition, transport end energy, along with literacy and labor market skills, what should the top priorities be for policy makers, international donors, NGOs and businesses?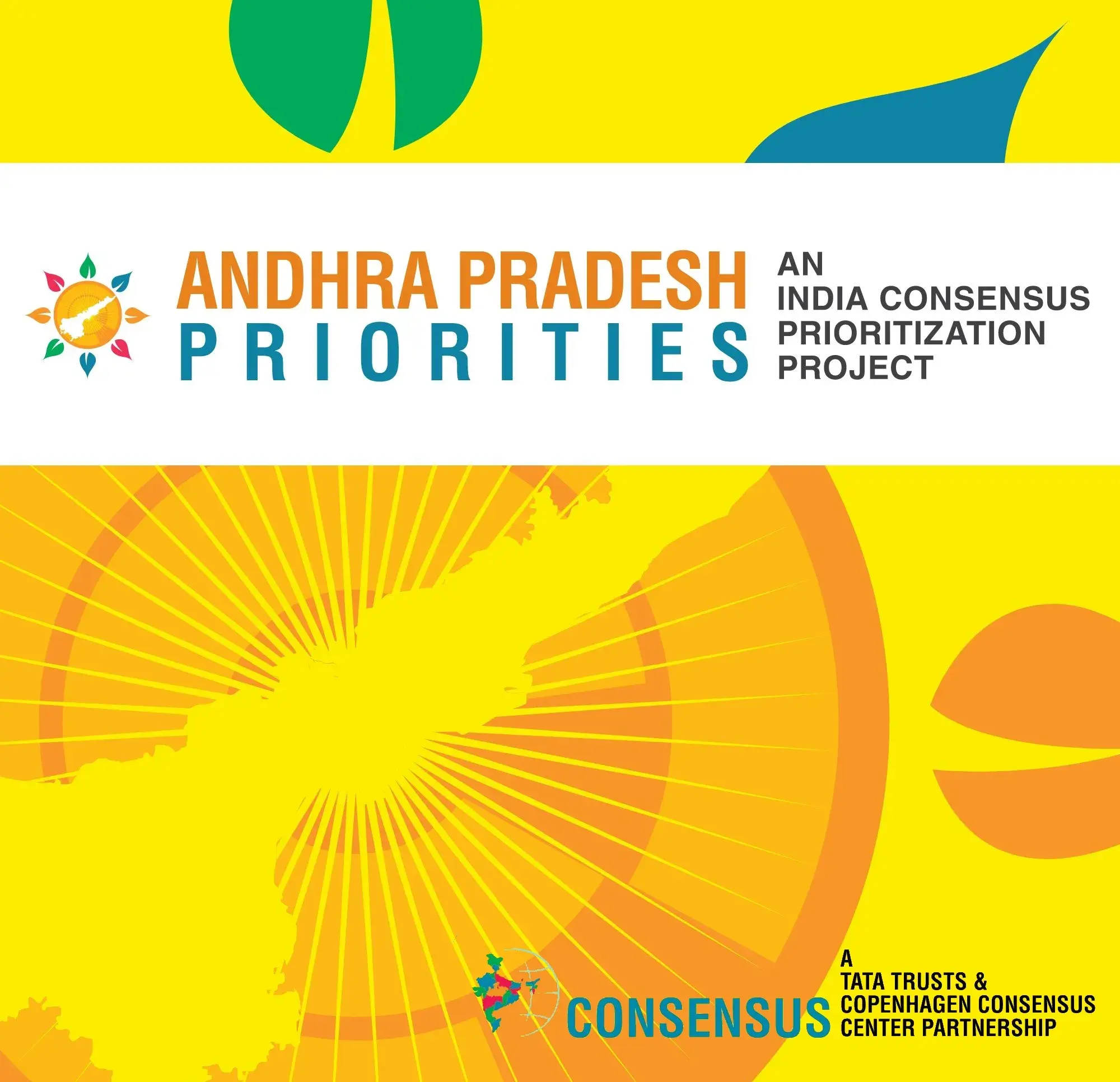 Rajasthan Priorities
Rajasthan is the largest Indian state. It has a diversified economy, with mining, agriculture and tourism. Rajasthan has shown significant progress in improving governance and tackling corruption. However, it continues to face acute social and economic development challenges, and poverty remains widespread.  
What should local, state and national policymakers, donors, NGOs and businesses focus on first, to improve development and overcome the state's remaining issues?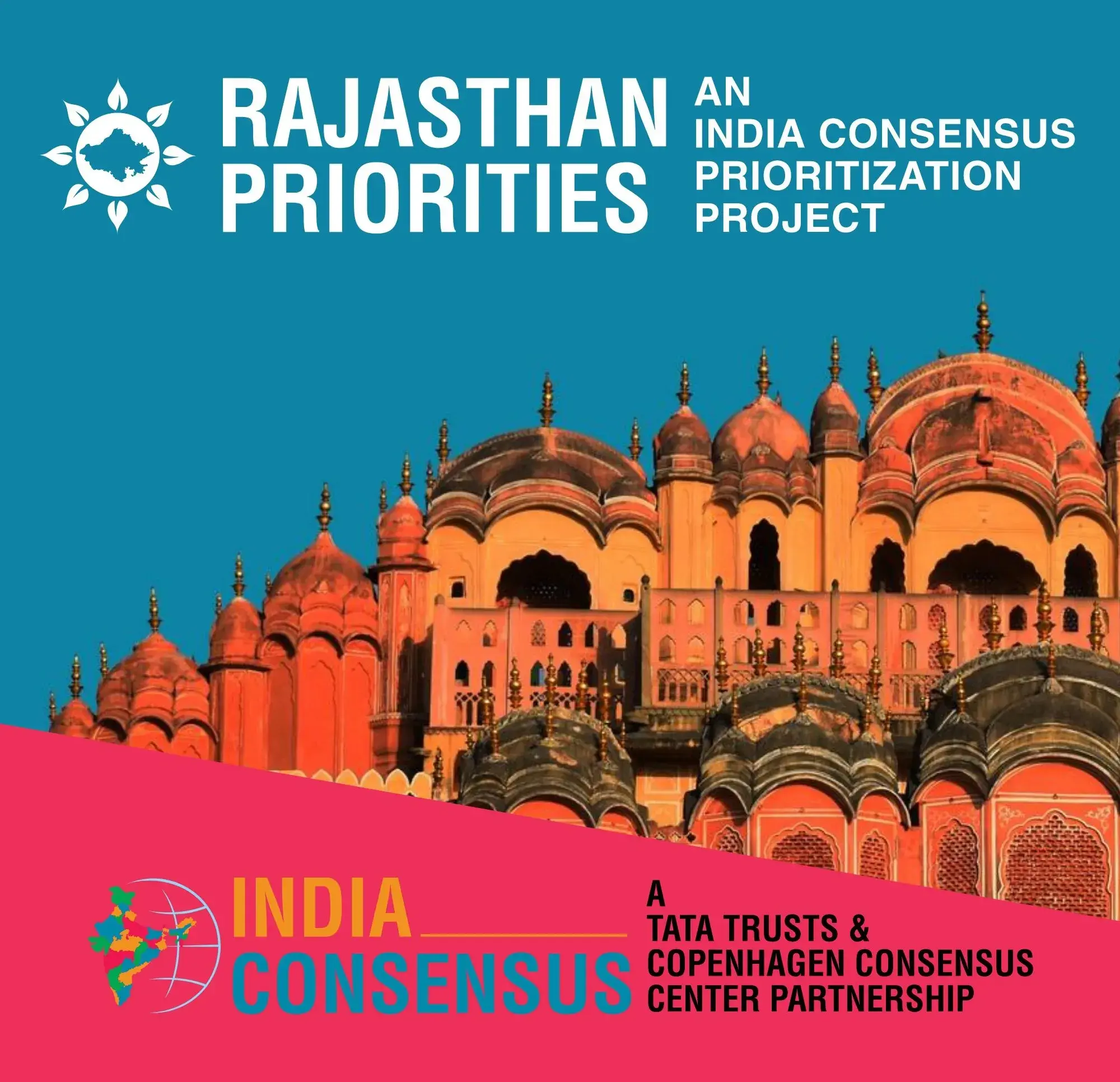 Ranking Solutions in Terms of Social Value for Money
Learn more about the work to assess which policies are the best for generating the most social, economic and environmental value per rupee spent. Our panel of eminent economists included Nobel Laureate Finn Kydland, Bibek Debroy, Rathin Roy, Nisha Agrawal, Vinita Bali, S Mahendra Dev, Amitabh Mattoo, and Alok Ray.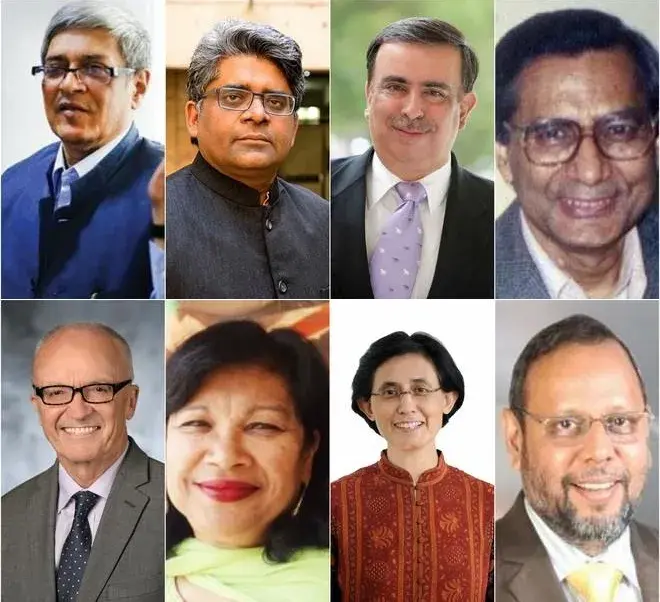 NITI Aayog and India Consensus collaboration
On June 14, 2018 the India Consensus prioritization methodology was presented at a NITI Aayog in Delhi. The event was attended by Chief Secretaries, Additional Chief Secretaries/Principal Secretaries/Secretaries dealing with the Planning Department of 32 States and Union Territories, Joint Secretaries from 14 Ministries, senior officers from NITI Aayog, eminent economists and researchers under the aegis of both Vice-chair Dr Rajiv Kumar and Chief Executive Officer (CEO) Shri Amitabh Kant.
Both Dr Kumar and Shri Kant appreciated the process, reaffirmed that they want to see it used for the SDGs, for other states, and for aspirational districts. Several states also indicated they would be interested in taking prioritization forward.
India Consensus has been invited by NITI Aayog to assess the social benefit-cost ratios for priority indicators of Sustainable Development Goals for India. The social benefit-cost ratio (BCR), is an indicator of the cost-effectiveness of an intervention, as it demonstrates the amount of social, economic and environmental benefits achieved per Rupee invested.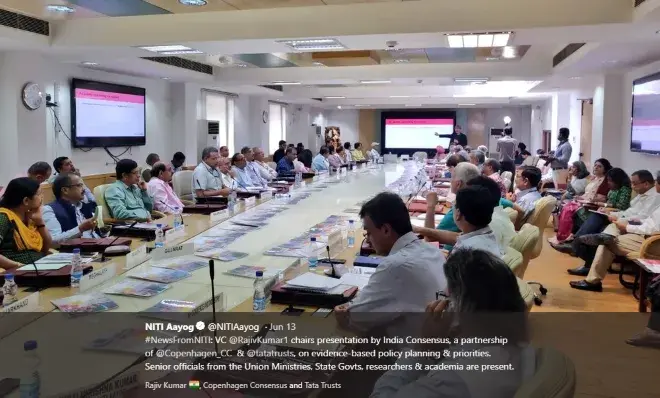 Honorable CM of J&K takes interest in bringing India Consensus to her state
After being briefed on the pilot projects in Rajasthan and AP, the Chief Minister of J&K, Mehbooba Mufti welcomed the India Consensus methodology to Jammu and Kashmir, and suggested social, economic and environmental monitoring of developmental schemes even as she asked for better prioritization of ideas for overall growth and development of the society. Advisor to Chief Minister, Prof. Amitabh Mattoo; Chief Secretary, B B Vyas; Principal Secretary to CM and Planning, Rohit Kansal and Dr.Bjorn Lomborg and Manorama Bakshi from India Consensus were present in the meeting.