Youth Forums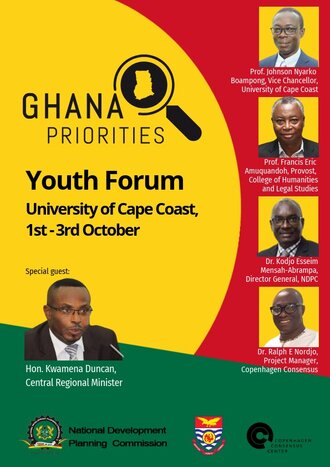 To balance the elite part of the eminent panel, we gathered a youth forum in Cape Coast with participants from the three major cities and asked them to do a similar prioritization to the Emintent Panel. This was very popular with the Cape Coast University economics department and engendered a lot of interest.
The two-day Youth Forum consisted of an introduction to Ghana's development planning and the process of setting the annual budget by the NDPC, including a key-note and discussion with the Central Regional Minister. Then Copenhagen Consensus held an introduction to welfare economics and the benefit-cost analysis methodology. The students formed 80 groups with the task of studying the Ghana Priorities analyses and allocate a fictional budget of 100 million cedis towards some of the 79 solutions identified by the Ghana Priorities project.
Here is the aggregated priority list, of all the groups' individual prioritizations collected by the NDPC:
| Intervention for additional funding | Share of total budget |
| --- | --- |
| Increase mechanization through tractor services | 6.0% |
| Capital grants for micro enterprises | 5.8% |
| Feeder roads for rural transport | 5.0% |
| Extend fertilizer subsidies | 4.5% |
| Strengthen community health system (GEHIP) | 4.5% |
| Revamp rail network for rural transport | 4.4% |
| Subsidize private senior high schools to increase seats | 4.2% |
| Universal malaria testing and health facility treatment | 3.6% |
| Build warehouses to reduce post-harvest losses | 3.4% |
| Apprenticeships | 3.3% |
Each group had to document their decision-making process, the reasons for as a group prioritizing one solution over another, and present a short summary of their prioritization process to the forum.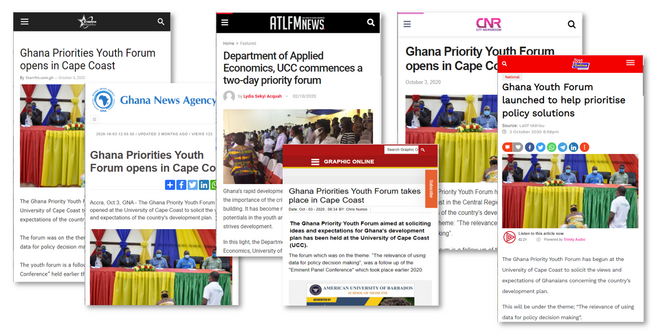 In total 8.5 billion fictional cedis were allocated with an average social and economic return of 13.6 cedis worth of benefits back on each cedi.