Health: Non-Communicable Diseases
Non-Communicable Diseases
Professor Shreelata Rao Seshadri of Azim Premji University with Vijayalakshmi Hebbare fills evidence gaps by identifying the costs and benefits of 4 key responses to non-communicable diseases: diabetes screening, breast cancer screening, cervical cancer screening, and preventative medication for people at risk of cardiovascular disease.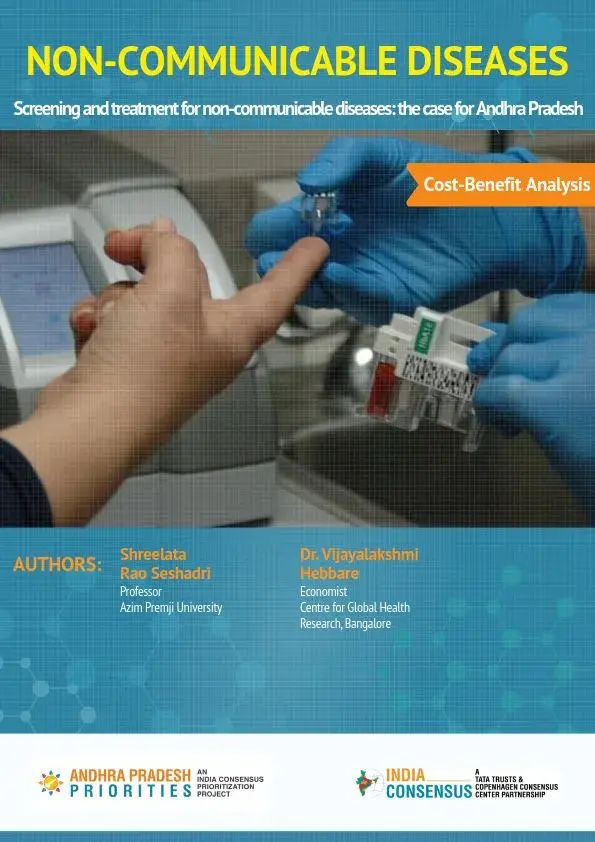 Sector Expert Consultation
On 25th Oct 2017, the sector expert consultation on diseases was held at Hotel Fortune Murali Park, Vijayawada. A total of 27 experts participated in the consultation. The consultation included experts from Government agencies like Andhra Pradesh Vaidya Vidhana Parishad (APVVP); Director of Health, GoAP; MEPMA; Sarva Shiksha Abhiyan;  Medical Officer, State Senior Coordinator for School Health; Indian Medical Association; Chairperson, Dean - Research and Research Officer from IIHMR University, Jaipur; Health Consultants from UNICEF; Senior faculty from Siddhartha Medical College; researchers from Azim Premji University, Bengaluru, and private sector stakeholders from hospitals including Ramesh Hospital etc.