NITI Aayog Prioritisation Session
On June 14, 2018 the India Consensus prioritization methodology was presented at a NITI Aayog in Delhi. The event was attended  attended by Chief Secretaries, Additional Chief Secretaries/Principal Secretaries/Secretaries dealing with the Planning Department of 32 States and Union Territories, Joint Secretaries from 14 Ministries, senior officers from NITI Aayog, eminent economists and researchers under the aegis of both Vice-chair Dr Rajiv Kumar and Chief Executive Officer (CEO) Shri Amitabh Kant. Copenhagen Consensus President, Dr Bjorn Lomborg presented the policies and interventions which generate the most social, economic and environmental good for the States.
Both Dr Kumar and ShriKant appreciated the process, reaffirmed that they want to see it used for the SDGs, for other states, and for aspirational districts. Several states also indicated they would be interested in taking prioritization forward.
India Consensus has been invited by NITI Aayog to assess the social benefit-cost ratios for priority indicators of Sustainable Development Goals for India. The social benefit-cost ratio (BCR), is an indicator of the cost-effectiveness of an intervention, as it demonstrates the amount of social, economic and environmental benefits achieved per Rupee invested.
Download the full event schedule.
---
Dr. Rajiv Kumar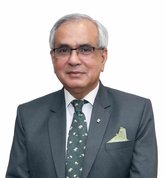 Dr. Rajiv Kumar has a wide experience of having worked in government, academia, industry as well as in multinational institutions.  A founding director of Pahle India Foundation, Dr. Kumar was a Fellow at CPR and earlier the CEO of Indian Council for Research on International Economic Relations(ICRIER).  He has also been Chief Economist at CII and Secretary General of Federation of Indian Chamber of Commerce & Industry(FICCI).  He was a professor at Indian Institute of Foreign Trade(IIFT) and serves as the Chancellor of Gokhale Institute of Politics and Economics, Pune.  In the government, he was Economic Advisor with Department of Economic Affairs (DEA), Ministry of Finance and Bureau of Industrial Costs and Prices(BICP), Ministry of Industry.  He was Principal Economist at Asian Development Bank, Manila where he spent 10 years.  Prior to his appointment as Vice Chairman, NITI Aayog, he served on many Boards including that of RBI and SBI.
---
List of Participants 
Dr Rajeev Kumar, Vice Chair NITI Aayog
Amitabh Kant, CEO, NITI Aayog
Yaduvendra Mathur, Additional Secretary - NITI
Shireen Vakil, Head, Policy and Advocasy Tata Trusts
NITI, PS - NITI
Dr Jyoti Kiran, Chair State Finance Commision - Rajasthan 
Amitabh Jain, Principal Sec, Planning
Heera lal Samariya, Secretary - Ministry of Labour and Employment
Ajay Tirkey, Additional Secretary - Ministry of Women and Child Development
Sanjeev Kumar, Additional Secretary - Ministry of Rural Development
Sanjay Kumar, Joint Secretary - Ministry of Housing and Urban Affaires
Dinesh Kumar, Joint Sec- Department of Agriculture and Coopration
Dr Manohar Agnani, Joint Secretary - Policy and NHM, Ministry of Health and Family welfare
Devnder Singh, Spl Secretary, Finance and Planning, GNCTD
Jitendra Kumar, Adviser - NITI Aayog
U K Sharma, Adviser - NITI Aayog
Ashok Kumar Jain, Adviser-RD, NITI Aayog
Praveen Mahto, Adviser PAMD, NITI
Vinod Kumar, Adviser - Govt of Meghalaya
Dr Vishwas Mehta, Additional Chief Secretary (planning and economin affaires) Govt of Kerala
Daulat Hawaldar, Sec Planning, Govt of Goa
Kulanand Joshi, Secretery (Finance and Planning Department), Govt of Andamand and Nicobar Admn
Guuraddhe Mulleyaa, Pr Sec Planning, Govt of Madhya Pradesh
Himanshu Gupta, Spl Secretary Planning, Govt of Arunachal Pradesh
Dr Ranjeet Kumar Singh, Secretary Planning Uttarakhand
Ashish Vachhani, Secretery (Planning Department), Govt of Tamilnadu
Rohit Kanwal, Pr Sec (Planning) J&K Govt
Moloy Bora, Sec Planning, Govt of Assam
Neena Sharma, Secretery, Planning - UttarPradesh Govt
Tuhin K Pandey, Pr Secretary, Finance Department, Govt of Odisha
Dr Vivek Saxena, Addl Resident Commissionar, Govt of Haryana
Anil Sarkar, OSD, NITI Aayog
D B Gupta, Dy Director, Planning, GNCTD
Bhartendu Shandilya, Dy Resident Commissioner, UT of Chandigarh
Vanashsree Vipin Singh, Chief Evalution Officer, Karnatka Evaluation Authrity, Govt of Karnatna
Dr Mdhav Sharan Singh, Joint Director, Planning Department, Govt of Gujarat
Rajeev Arora, Addl Development Commissioner, Govt of meghalaya
Shakuntala Singh, Jt Sec, department of Planning, Govt of Raj
Vinesh Singhvi, OSD-Planning, Govt of rajasthan
S Satyanarayana, Joint Director, Finance Department, Govt of telangana
Madhura Chakravorty, DD Ministry of Skill Development
Anjana Tanwar, AD Ministry of Skill Development
Amit Srivastava, DG- DMEO, NITI Aayog
R. Ramanan, MD - Atal Innovation Mission, NITI Aayog
Sukhgeet Kaur, Director - NITI Aayog
Balwant Singh, Director- Planning, gGovt of Punjab
Yashvir Singh, Economic Adviser - Ministry of environment, forest and climate change
Bhupesh Kumar, SJC (PP) Ministry of water Resources
Suneel Pandita, Dy Director, Planning Department, J&K Govt
Anita Mukhija, Asst tech Adviser, Ministry of Women and Chil.
Deepika Srivastava, Sr Consultant - NITI Aayog and EAC-PM
Rajat Kathuria, Director - ICRIER
Anil Khaitan, President- PHD-CCI
Dr C M Kumar, NITI Aayog
Pravin Srivastava, CRC, Tripura Bhawan, Govt of Tripura
Pradeep S Mehta, Secretary General - CUTs International
Varun Bhardwaj, Sec - PHD Chamber
Amir Ullah Khan, Prof ISB
Rajendra Chadha, Acting DG NCAER & Sr Fellow
Aanntika Singh, Advisor Child Protection
Bidisha Ganguly, Chief Economist-CII
Dr Vijaylakshmi, Economist
Nirupama Soundarajan, Sr Fellow, Pahle India
Shagun Khurana, Sr Research, Pahle India
Rajesh Chakrabarti, Co-founder, Sunay Policy Advisory Pvt Ltd
A Shariff, US India Foundation
N Banik Prof, Bennatt University
Rahul Ahluwalia, Gates Foundation