Andhra Pradesh Priorities Eminent Panel Findings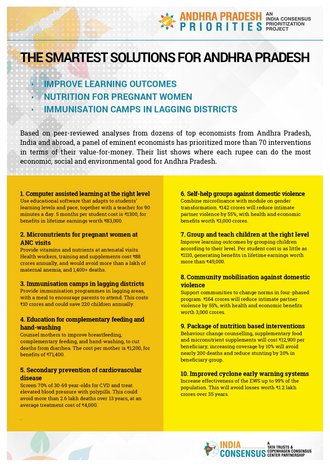 Given the range of challenges facing Andhra Pradesh, what should be the top priorities for policy-makers, civil society, donors and businesses? With limited resources and time, it is crucial that focus is informed by what will do the most good for each rupee spent.
India Consensus is a partnership between the Tata Trusts and Copenhagen Consensus to conduct cost-benefit research and prioritisation across a comprehensive agenda of responses to challenges. The prioritisation is being undertaken and guided by an Eminent Panel of economists.
The top 10 smartest solutions for Andhra Pradesh
1. Computer assisted learning at the right level
Use educational software that adapts to students' learning levels and pace, together with a teacher for 90 minutes a day. 5 months per student cost is ₹1300, for benefits in lifetime earnings worth ₹83,000.
2. Micronutrients for pregnant women at ANC visits
Provide vitamins and nutrients at antenatal visits. Health workers, training and supplements cost ₹88 crores annually, and would avoid more than a lakh of maternal anemia, and 1,400+ deaths.
3. Immunisation camps in lagging districts
Provide immunisation programmes in lagging areas, with a meal to encourage parents to attend. This costs ₹10 crores and could save 220 children annually.
4. Education for complementary feeding and hand-washing
Counsel mothers to improve breastfeeding, complementary feeding, and hand-washing, to cut deaths from diarrhea. The cost per mother is ₹1,200, for benefits of ₹71,400.
5. Secondary prevention of cardiovascular disease
Screen 70% of 30-69 year-olds for CVD and treat elevated blood pressure with polypills. This could avoid more than 2.6 lakh deaths over 13 years, at an average treatment cost of ₹4,000.
6. Self-help groups against domestic violence
Combine microfinance with module on gender transformation. ₹142 crores will reduce intimate partner violence by 55%, with health and economic benefits worth ₹3,000 crores.
7. Group and teach children at the right level
Improve learning outcomes by grouping children according to their level. Per student cost is as little as ₹1110, generating benefits in lifetime earnings worth more than ₹49,000.
8. Community mobilisation against domestic violence
Support communities to change norms in four-phased program. ₹164 crores will reduce intimate partner violence by 55%, with health and economic benefits worth 3,000 crores.
9. Package of nutrition based interventions
Behaviour change counselling, supplementary food and micronutrient supplements will cost ₹12,900 per beneficiary; increasing coverage by 10% will avoid nearly 200 deaths and reduce stunting by 20% in beneficiary group.
10. Improved cyclone early warning systems
Increase effectiveness of the EWS up to 99% of the population. This will avoid losses worth ₹1.2 lakh crores over 35 years.
Eminent Panel
The Andhra Pradesh Priorities Eminent Panel comprises:
• Finn Kydland
• Nisha Agrawal
• Vinita Bali
• S Mahendra Dev
Eminent Panel Approach
The Eminent Panel sought to address the research proposals with a view to answering the question: On which initiatives should additional resources be spent first?
The Eminent Panel intends these findings to be informative not just to the Government of Andhra Pradesh, but also to others, including NGOs, the private sector and charitable organizations.
The panel examined the proposals in detail. Each proposal was discussed with its principal author. The panel was informed by Sector Expert Commentaries, and by Eminent Panel members' own critical appraisals and discussions on assumptions and methodology.
In ordering the proposals, the Eminent Panel was guided predominantly by consideration of social, economic and environmental costs and benefits.
The Eminent Panel acknowledged the difficulties that cost‐benefit analysis must overcome, both in principle and as a practical matter, but agreed that the cost‐benefit approach was a very important organizing method.
Each Eminent Panel member assigned his or her own ranking to proposals. The Eminent Panel's ranking was calculated by taking the median of individual rankings. 
The Eminent Panel jointly endorses the median ordering as representing their agreed view. In due course, the Eminent Panel's individual commentaries shall be published in book form.
Biographies of the Eminent Panel Members
Finn Kydland
Finn Kydland is a Norwegian-born economist known for his contributions to business cycle theory. He is the Henley Professor of Economics at the University of California, Santa Barbara. He also holds the Richard P. Simmons Distinguished Professorship at the Tepper School of Business of Carnegie Mellon University, where he earned his Ph.D., and a part-time position at the Norwegian School of Economics. 
Kydland was a co-recipient of the 2004 Nobel Memorial Prize in Economics, with Edward C. Prescott, "for their contributions to dynamic macroeconomics: the time consistency of economic policy and the driving forces behind business cycles".
Nisha Agrawal
Nisha Agrawal has worked on poverty, inequality and development issues for more than three decades. She was the Chief Executive Officer of Oxfam, India, and worked with the World Bank on development issues for 18 years. Agrawal has experience working in countries in East Asia (Cambodia, Vietnam and Indonesia) and in East Africa (Tanzania, Kenya and Uganda). 
She has a Doctorate in Economics from the University of Virginia, USA. She has also worked as a Research Economist at the Impact Research Centre, University of Melbourne, Australia.
Vinita Bali
Vinita Bali is a global business leader with extensive experience in leading large Companies in India and overseas. She has worked with The Coca-Cola Company and Cadbury Schweppes PLC in the UK, Nigeria, South Africa, USA and Latin America, in addition to Britannia Industries Ltd in India. She is a Non-Executive Director on the global boards of Smith & Nephew plc, and Bunge Ltd; and Chairman of GAIN (Global Alliance for Improved Nutrition). She served on the Global Board of Syngenta International AG from April 2012 to June 2017. 
In India, Vinita serves as a Non-Executive Director on the Boards of CRISIL Ltd and Syngene International Ltd; is a Member of the Board of Governors of Indian Institute of Management – Bangalore; and an Advisory Board Member of PricewaterhouseCoopers.
S Mahendra Dev
S Mahendra Dev is Vice Chancellor of Indira Gandhi Institute for Development Research. He is Consultant and Adviser to many international organizations, including the United Development Programme, the World Bank, and the International Labor Organisation. 
Dev was Chairman of the Commission for Agricultural Costs and Prices, Ministry of Agriculture, in the rank of Secretary to Government of India from 2008 to 2010, and Acting Chairman of the National Statistical Commission of India in the rank of Minister of State. From 1999 to 2008, he was Director of the Centre for Economic and Social Studies in Hyderabad, India. He is President of the Indian Economic Association, Vice Chairman of Board of Trustees of IFPRI, and Chairman of the Committee on Terms of Trade on Agriculture constituted by the Indian Ministry of Agriculture.
Ranking of Proposals
The Eminent Panel considers and prioritizes specific proposals to respond to challenges. This is different from ranking the challenges themselves. A low ranking of a proposal does not mean that the problem it addresses should be considered unimportant. 
The Ranking was calculated by taking the median of each Eminent Panel member's individual rankings. The Eminent Panel jointly endorses the median ordering as representing their agreed view. In due course, the Eminent Panel's individual commentaries shall be published in book form.
In setting priorities, the Eminent Panel has taken into account the strengths and weaknesses of the specific cost‐benefit appraisals under review, and has given weight both to the institutional preconditions for success and to the demands of ethical or humanitarian importance.
Based on the costs and benefits of the solutions and their own assessment, the panel ranked the proposals, in descending order of desirability, as follows:
Rank
Proposal
1
Computer assisted learning at the right level
2
Micronutrients for pregnant women at ANC visits
3
Immunization camps in lagging districts
4
Education for complementary feeding and hand-washing
5
Secondary prevention of cardiovascular disease
6
Self-help groups against domestic violence
7
Group and teach children at the right level
8
Community mobilisation against domestic violence
9
Package of nutrition based interventions
10
Improved cyclone early warning systems
11
Improve land records digitisation
12
Tablets to reduce anaemia in adolescent girls
13
Supplementary food for mother and child
14
Diabetes screening and treatment
15
Hire local teachers to improve pre-school classes in
AWCs
16
Certified seed production
17
Family planning for unmet need
18
Toilet provision for girls' secondary school enrollment
19
Bicycle transfer for girls' secondary school enrollment
20
Expand urban ambulance network
21
Improved maternal and neonatal health care
22
Conditional cash transfer for ANC visits
23
Improve private sector TB care
24
Improve private sector TB care and active case finding
25
Expand rural ambulance network
26
Cash incentives to attend pre-school classes in AWCs
27
Seafood certification for export
28
Build warehouses, storage and cold chain
29
Subsidised apprenticeships
30
Treatment for children with severe acute malnutrition
31
Drip irrigation and mulching in high value crops
32
Vocational training program
33
Connect rural households to national fibre optic
network
34
Improved mobile phone advisory
35
Mass media breastfeeding promotion and counseling
36
Flush / Pour-flush sanitation - rural
37
Expand skill training for women
38
Indoor air pollution: Improved biomass cookstoves
promotion
39
Cash transfer for girls' secondary school enrollment
40
Elevated bus line system
41
Improved drinking water supply - urban
42
Zig-zag brick kiln technology to reduce air pollution
43
Vertical shaft brick kiln technology to reduce air
pollution
44
Flush / Pour-flush sanitation - urban
45
Behavioural change for household treatment of drinking
water
46
Expand water use efficient irrigation
47
Improved drinking water supply - rural
48
Coastal economic zone
49
Well-structured incentives to teachers
50
Urban 24x7 piped water supply
51
Direct non-monetary incentives to reduce child
marriage
52
In-situ slum redevelopment
53
Urban waste collection 100 percent
54
Expand poverty graduation and livelihood programs
55
Energy efficient agricultural water pumps
56
Double teacher-pupil ratio
57
Cervical cancer screening and treatment
58
Credit support to micro, small and medium enterprises
59
Expand UID (Aadhaar) based payments for MGNREGA
60
Upgrade agricultural power distribution
61
Mental health counselling in schools
62
Behavioural change for use of existing sanitation
facilities
63
Indoor air pollution: Free LPG connection to poor
households
64
Expand crop insurance coverage
65
Hiring centres for farm machinery
66
Local food processing
67
Urban metro rail system
68
Energy storage in commercial buildings - water
69
Energy storage in commercial buildings - hybrid salts
70
Private-public affordable housing projects
71
Subsidised do-it-yourself extension and construction
72
Urban sewerage and wastewater treatment 100 percent
73
Breast cancer screening and treatment
74
Training of teachers
75
Port infrastructure and hinterland connectivity
76
Indoor air pollution: LPG subsidy reduction by 50%
77
Farmer loan waivers
Notes on Eminent Panel Rankings
• Improved mobile phone advisory (Agriculture): The Eminent Panel notes that it is especially important at the implementation phase to ensure that distributed cellphones reach women, who are most responsible for farming. The intervention's impact could be limited if the technology is held only in the hands of the men of households.
• Family planning for unmet need (Health Systems): The Eminent Panel is concerned that the burden of family planning should not be left entirely to women. Changes are required to the behaviour of both men and women. There is a strong case for looking at family planning holistically within spouses.
• Mass media breastfeeding promotion and counselling and Conditional cash transfer for ANC visits (Mother and Child Health): The Eminent Panel finds that it is imperative to look for new, better interventions in this important area, and to close evidence gaps and increase the knowledge space, so there can be more and better solutions to choose from. 
• Improve land records digitisation (Ease of Doing Business): The Eminent Panel encourages the consideration of transferring land ownership to women. Removing barriers to women's ownership and control of physical and financial assets would help to ensure the full and equal participation of men and women in the economy.

Andhra Pradesh Priorities research methodology
Andhra Pradesh Priorities research followed the Copenhagen Consensus approach, refined over fifteen years to improve global, regional and national spending priorities. Prior to research being undertaken, 18 key sector roundtables and more than 100 meetings resulted in a total of 600+ promising solutions being identified for the state. 
Hopefully, this will become an integral part of data-based and critical-based decision making in the country." Dr Rajiv Kumar, Vice Chairperson NITI Aayog
Stakeholder meetings were held for key policy actors comprising of prominent individuals across Andhra Pradesh, representatives from government, UN organizations, donor organizations, academia, NGOs, think-tanks, and key sector experts etc. One-to-one, in-depth meetings were held with the Chief Minister's Office, Chief Secretary, Principal Secretaries of all relevant departments, Adviser to Chief Minister, along with Planning Department, Finance Ministry, and others.
At the consultation meetings, sector experts and representatives from government, donors, think tanks, NGOs, and universities were invited to assess the best topics for cost-benefit research. With additional inputs from the Academic Advisory Committee, a final short-list of interventions was identified for research. 
Give us the best solutions for the State, and we will implement them" N. Chandrababu Naidu, Chief Minister, Andhra Pradesh
Research papers were commissioned from Indian and international specialist economists, to analyze the costs and benefits of 77 specific proposals. Assumptions were standardized to allow for comparison between different proposals. Peer review was embedded into the research process, to ensure quality while capturing a broad range of expert perspectives. In addition, sector experts from civil society and government provided commentaries.
Academic Advisory Committee
Andhra Pradesh Priorities research was guided by an Academic Advisory Committee that comprises:
• Ashok Kumar Jain is Adviser (Rural Development, Drinking Water & Sanitation, Housing, and Sustainable Development Goals) to NITI Aayog, Government of India. He did his M.Sc & M.Phil in Botany and Ph.D. in Development Studies.  He has held several important assignments in Andhra Pradesh such as Divisional Forest Officer; Conservator of Forests; Project Director, Drought Prone Area Programme; Special Commissioner, DPAP & Wage Employment; Vice Chairman & Managing Director, Andhra Pradesh State Irrigation Development Corporation; Special Secretary, Irrigation & Command Area Development Department and Vice Chairman, Andhra Pradesh Housing Board & Commissioner, Housing. He is also a Member of several committees of Government of India. Jain has supported the Sub-group of Chief Ministers on Swachh Bharat Abhiyaan in preparing their report which was submitted to the Prime Minister in October 2015. He was the Convener of the Task Force on Elimination of Poverty in India headed by Vice Chairman, NITI Aayog. Jain is coordinating with all the States/UTs, Central Ministries, United Nations, Think Tanks, Civil Society Organizations and other stakeholders for the implementation of Sustainable Development Goals in India. 
• S Galab is a Development Economist and Director of Centre for Economic and Social Studies, Hyderabad and leads the Young Lives, an International Longitudinal Project in Andhra Pradesh.  He has carried out research in the broad fields of Rural Development and Agriculture.  He worked on the Effectiveness of Public Policies related to Poverty Alleviation including Social Capital, Women Empowerment, Child Labour and Livelihoods. He has been Project Director for Andhra Pradesh District Poverty Initiatives Project and Andhra Pradesh Rural Poverty Reduction Project. He was a member in Welfare Commission on Farmers, a Commission appointed in response to the Agrarian Crisis in the State, Working Group on Poverty Elimination and was associated with the Expert Group on Agricultural Indebtedness.  He is a member of the Commission on Inclusive and Sustainable Agricultural Development of Andhra Pradesh and of the Advisory Board of Telangana Minority Commission of Enquiry.
• Faizan Mustafa is a senior law teacher and renowned jurist of constitutional law, who is Vice- Chancellor of NALSAR University of Law, Hyderabad which is country's leading National Law University and has emerged as the most sought-after destination of legal education in the entire South Asia. He has been unanimously elected as Vice President/President-Elect of the prestigious Shastri Indo-Canadian Institute, which is a bi-national organization of Canadian and Indian governments. He was the Founder Vice-Chancellor of National Law University, Orissa where he put to use the concept of 'integration of knowledge' and introduced highly innovative legal education curricula. He is Advisor to National Law School & Judicial Academy, Assam. He is visiting faculty to reputed institutions in India and abroad. As Founder Director of KIIT Law School, Bhubaneshwar, he experimented with a novel B.Sc. LL.B course with six papers in Biotechnology and three in Environmental Science.
• Pavithra Kumar R heads the Tata Trusts operations in South India.  He has been instrumental in putting together the team in AP and operationalizing the Memorandum of Understanding signed with the State Government in 2015. He comes with 21 years of experience in the field of Finance and Social sector.  Prior to joining the Tata Trusts, he was with Tata Communications Limited, Mumbai.  He held positions in Corporate Finance, Strategy, Financial Planning & Analysis, etc. He was part of the core team involved in Global fundraising and Mergers and Acquisitions across the globe. He is an Associate Member of ICWAI, M.Com, and MBA in Finance.  Apart from his role at the Trusts, he also holds the position as a Director of Vijayavahini Charitable Foundation (VCF) and Alamelu Charitable Foundation (ACF) for healthcare initiatives of the Trusts.
• Usha Vyasulu Reddy is Advisory Faculty at the Centre for IT and Public Policy, International Institute of Information Technology, Bangalore and has been Visiting Professor at the S.N School of Communication, University of Hyderabad. She is a former Professor and Director, Centre for Human Development, Administrative Staff College of India, Hyderabad, and former Director, The Commonwealth Educational Media Centre for Asia, New Delhi, and Professor of Communication and Director, Audio Visual Research Centre, Osmania University. Reddy has 35+ years of experience in teaching, production, research and practice in development, communication, and technology. She has received several international fellowships for advanced research. She is a specialist trainer for government officials and academics in nearly 50 countries across the Asia-Pacific, South East Asia, and CIS regions.
• Shri G. Sudhir, IAS (Retd) joined service in 1977 and served in the undivided state of Andhra Pradesh and held several important posts with distinction. He worked as Collector, Ranga Reddy and Collector, Vizianagaram. He was on deputation from 1989 to 1994 to the Government of India in the Ministry of Human Resource Development and Additional Development Commissioner, Handicrafts, Ministry of Textiles. Returning to the state in 1994, he served in Panchayat Raj & Rural Development Department, Higher Education Department, Cooperation and Agricultural Marketing Department, Tourism & Culture and also Finance Department. He retired as Spl. Chief Secretary Medical & Health Department in 2012. He made important reforms in the respective sectors for the development of the state. He was appointed as Chairman of the Commission of Inquiry to study the Socio-economic and educational conditions of Muslims in Telangana State in March 2015.