CM Welcomes Andhra Pradesh Priorities Findings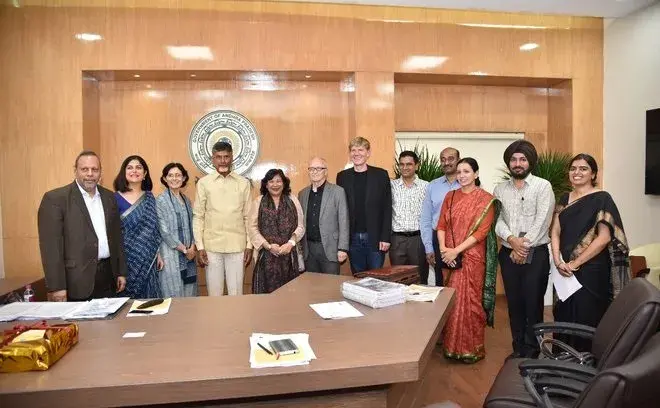 The Andhra Pradesh Priorities Eminent Panel of economists, along with Dr Bjorn Lomborg, the Tata Trust senior team of Shireen Vakil, Rajendra Ravuri and the AP Priorities team comprising of Saleema Razvi, BM Naidu and Tejbir Soni met the Hon'ble Chief Minister of AP - N. Chandrababu Naidu at his residence in Vijayawada on the evening of 20th June.
The Chief Minister welcomed the findings of the Andhra Pradesh Priorities Eminent Panel which prioritised 77 policies and interventions to help Andhra Pradesh achieve its goal of becoming India's leading state in social development and economic growth. He said that he intended to continuously work with the project team.
It's a very good study and I am very happy with it. I invite Andhra Pradesh Priorities to present an Action Plan for implementation,"
said Hon'ble N. Chandrababu Naidu.
The Eminent Panel comprises former CEO of Oxfam India Dr Nisha Agrawal; Chairman of the Global Alliance for Improved Nutrition Vinita Bali; Vice-Chancellor of Indira Gandhi Institute for Development Research and President of the Indian Economic Association Professor S. Mahendra Dev; and Nobel prize-winning economist Professor Finn Kydland.