Digitisation
Written by Ritu Srivastava General Manager – Research & Advocacy, Digital Empowerment Foundation and Eshita Mukherjee, Assistant Manager, Research and Advocacy, Digital Empowerment Foundation this paper examines 2 key interventions to improve digitisation in Andhra Pradesh: (1) Expand UID (Aadhaar) based payments for MGNREGA, and (2) Connect rural households to national fibre optic network.
Education
Written by Rajesh Chakrabarti, Kushal Sagar Prakash, and Mansi Arora of Sunay Policy Advisory this paper examines 5 key interventions to improve education in Andhra Pradesh: (1) Computer assisted learning at the right level, (2) Well-structured incentives to teachers, (3) Training of teachers, (4) Group and teach children at the right level, and (5) Double teacher-pupil ratio.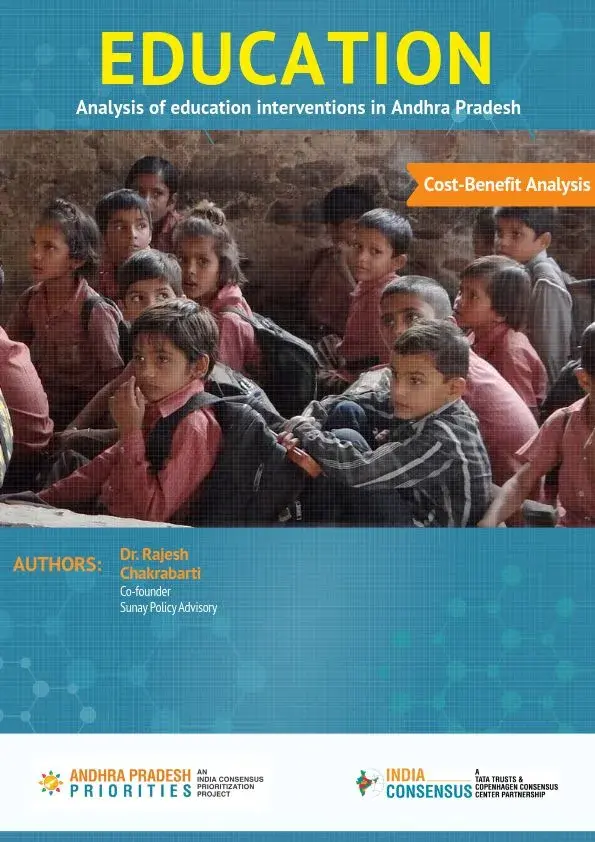 Sector Expert Consultation
A Sector Expert Consultation on 'Digitisation & Governance' was held on 14th November 2017 at Hotel Marg Krishnaaya, Vijayawada. A total of 13 experts participated in the consultation. Participants who attended the consultation meeting included Officers from National Informatics Centre (NIC) Vijayawada, State e-Governance Mission Team (SeMT), Vijayawada, e-Pragati Authority, Mee Seva, Officers from AP Online and Digital Empowerment Foundation etc.