Climate Change
Bangladesh is one of the most vulnerable countries in the world when it comes to climate change. Millions of citizens are already exposed to severe natural disasters like cyclones, flooding, tidal surges, heat waves, and drought, and rising sea levels are compounding the effects of the sinking Ganges River delta.
Shifts in global climate will exacerbate some extreme weather and threaten even more of the vulnerable people who live in the country's coastal regions. Moreover, it is clear that poverty is one of the biggest causes of climate vulnerability, so to help we should also consider general policies to reduce impoverishment.
Proposed Strategies 
| Strategy | Takas of benefits per taka spent |
| --- | --- |
| Mangrove protection in Sundarbans | 3 |
| Early warning systems and shelters | 1.8 |
| Polders, flood levels more than 3 meters | 0.8 |
| Polders, flood level less than 3 meters | 1.8 |
| Boost agricultural productivity | 4 |
| Resettlement to manufacturing cities | 3 |
Cost-Benefit Analysis Of Adaptation Strategy In Bangladesh
Research by economists Alexander Golub and Elena Strukova Golub examines several solutions that can help tackle climate impacts over the short or long term.
Future climate change will have profound consequences threatening the economic growth of the country and may compromise development goals dragging Bangladesh into a development trap."

–  Alexander Golub & Elena Strukova Golub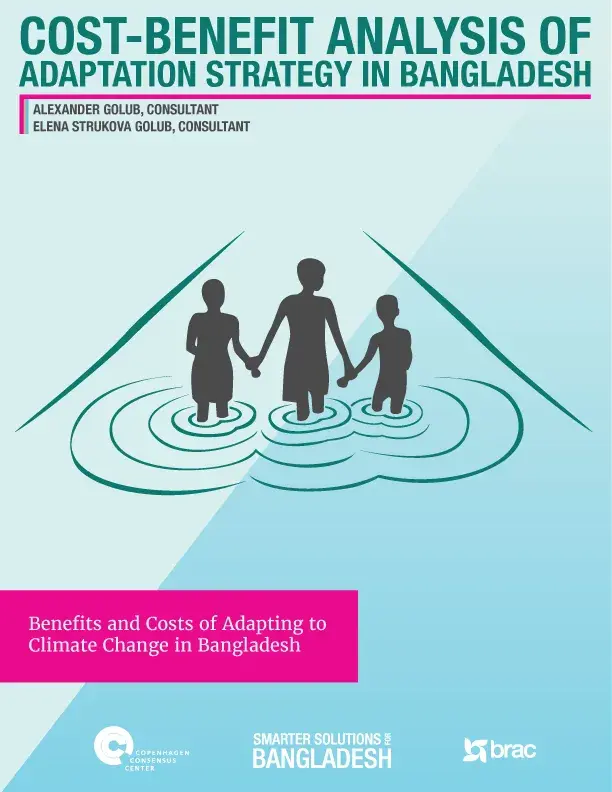 The smartest ways to adapt to climate
In a series of op-eds published in The Daily Star and Prothom Alo, Bjorn Lomborg outlined the key findings of the path-breaking research produced by the Bangladesh Priorities project.
Without adaptation, future climate change could have profound consequences on Bangladesh's economy. Coastal areas are most vulnerable to flooding and other climate change effects, therefore the solutions proposed focus on adaptation in these regions.

- Bjorn Lomborg
What do you think?
Climate change presents many challenges, but there are promising strategies to help Bangladesh cope. With scarce resources, is this where you would start, and which of these many solutions would you focus on first? We want you to continue the conversation about how to do the most good for every taka spent by participating in our Facebook poll.