Top Priorities for Bangladesh
One-in-Eleven Death Could Be Averted; Billions of Lives Saved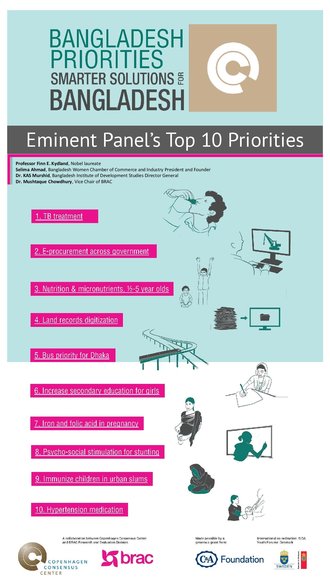 Our Eminent Panel, including a Nobel laureate economist and Bangladeshi economic experts, announced a prioritized list of investments that would produce phenomenal benefits for Bangladesh, saving billions of takas and averting one-in-eleven deaths.
Following the Copenhagen Consensus framework, the panel's top priorities for Bangladesh were investment in tuberculosis (TB) treatment, infant nutrition, and e-government.
A Pioneering Project
For more than a decade, the Copenhagen Consensus approach has been applied at a global level – most recently to provide an economic input to the United Nations' 'Sustainable Development Goals'. This collaboration with BRAC is the first time it has been used at a national level.
"Bangladesh has a proud tradition for trailblazing ideas, distributing innovative BRAC solutions to many nations, and making microfinance a solution across the world. This project is a global first, and this once again makes Bangladesh a pioneer."  
- Bjorn Lomborg
Compelling New Economic Research
After public engagement and roundtables held with government, NGOs, and universities, seventy-six policy options were selected for analysis. More than 60% of the researchers in the project were Bangladeshi. The entire volume of new policy research has been placed in the public domain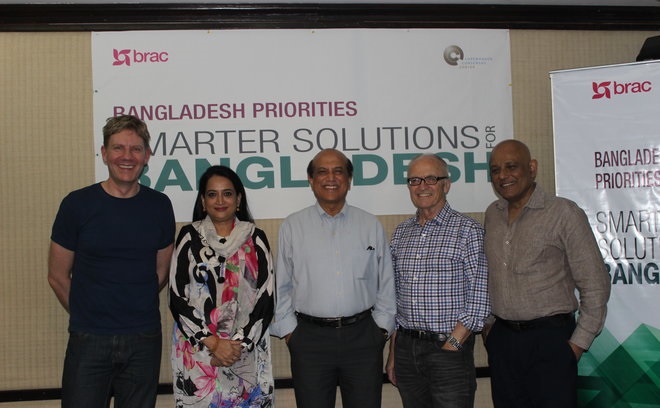 The Eminent Panel considered the entire volume of research, well over 1,000 pages of new evidence on the costs and benefits of Bangladeshi policy options and prioritized the following list of investments.
This list will help both government and donors to prioritize future policy choices for Bangladesh. By encapsulating the social, environmental, and economic returns on cost, this provides us with a very valuable insight."  
- Dr. Kas Murshid, Bangladesh Institute of Development Studies Director General
Click here to learn more about the top three investmetns or download the Eminent Panel's full findings. Scroll down to view the full eminent panel ranking.