Land Administration
The land administration process in Bangladesh still follows the antiquated system that British Colonial rulers instituted, from surveys all the way to collection of property taxes. Three different ministries oversee the records system, working independently and with little coordination. The laborious and time-intensive records system is inefficient and costly.
The complexity of the current system and tendency for officials to delay or block the process encourages people to rely on informal title arrangements. But this informality weakens the security of property rights and undermines economic activity.
Proposed Strategy
| Strategy | Takas of benefits per taka spent |
| --- | --- |
| Land records digitization | 619 |
The Costs and Benefits of Digitization of Land Records via Simplified Application Process
Research by Sultan Hafeez Rahman, executive director of the BRAC Institute of Governance and Development (BIGD), and research assistant Sumaiya Kabir Talukder finds that digitizing the land records system would provide an incredible 619 takas of benefits per taka spent.
Despite its importance in daily lives and economic activities, the land sector in Bangladesh has been prone to numerous indiscretions and corruption associated with land market transactions and the land administration system."

- Dr. Sultan Hafeez Rahman & Sumaiya Kabir Talukder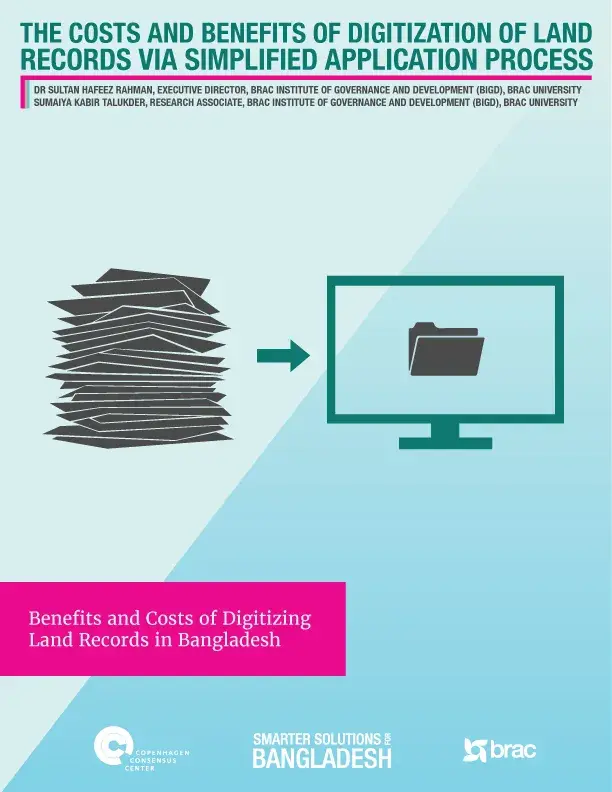 Digitize land records - Unlock economic opportunities
In a series of op-eds published in The Daily Star and Prothom Alo, Bjorn Lomborg outlined the key findings of the path-breaking research produced by the Bangladesh Priorities project.
Electronic land records nationwide would make information easy to acquire through a publicly accessible system, and the time, monetary, and other transactions costs required to access records or transfer parcels would fall tremendously."

- Bjorn Lomborg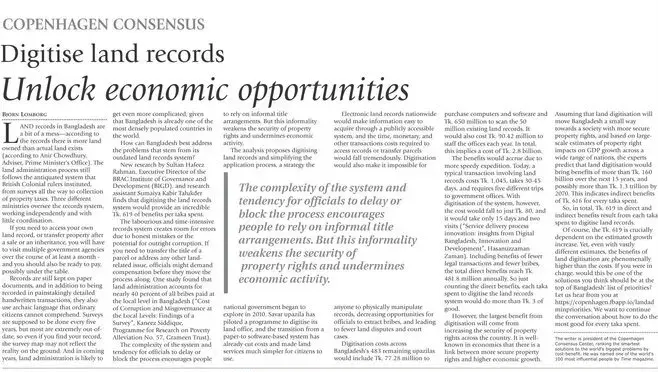 What's the smartest solution for Bangladesh?
Of course, the Tk. 619 is crucially dependent on the estimated growth increase. Yet, even with vastly different estimates, the benefits of land digitization are phenomenally higher than the costs. If you were in charge, would this be one of the solutions you think should be at the top of Bangladesh' list of priorities? After reviewing 1,000s of pages of peer-reviewed research an Eminent Panel ranked 72 solutions from the best to the worst in terms of delivering the most social, economic and environmental value for money. Find out what they ranked the highest here.