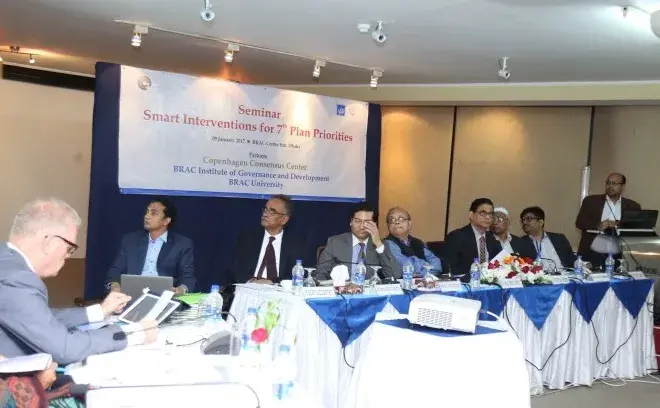 Smart Interventions Policy Seminar
A policy seminar on "Smart Interventions for 7th Plan Priorities" was held on 09 January 2017 at the BRAC Centre Inn in Dhaka, organized by BRAC University, BRAC Institute of Governance and Development (BIGD) and Copenhagen Consensus Center. 
Member of the Planning Commission and Senior Secretary, Dr Shamsul Alam and Policy Advisor of the Access to Information (A2I) project of the Prime Minister Office (PMO) Anir Chowdhury, attended the seminar as Guests of Honour. Commissioner of the Anti-corruption Commission (ACC) Dr Nasiruddin Ahmed and Additional Secretary of the Finance Division Mohammad Muslim Chowdhury attended the seminar as special guests. The seminar's discussion was chaired by Dr. Sultan Hafeez Rahman, Executive Director, BIGD.  
Bangladesh Priorities research is in the same wave length as the 7th Five Year Plan." - Dr. Shamsul Alam, the key architect of the 7th Five Year Plan (7FYP)
It was noted in the discussion that Bangladesh has made significant achievements both in economics and political fronts. For example, the country's manufacturing sector has grown steadily as the country has industrialized, thanks to the readymade garment (RMG) sector. At the same time, Bangladesh has been successful in using technology and other policy reform efforts for reducing corruption and promoting justice. 
Nevertheless, more can be done to address some of the RMG industry's most pressing current issues include poor compliance, inadequate infrastructure, all of which hinder overall competitiveness. On the political front, supporting the scale-up of proven good practices in service delivery, land management, procurement and village level governance, can help to move the country closer to Vision 2021, all of which hinder overall well-being of Bangladesh. 
Time is ripe to undertake a deeper look into some of these interventions engaging the government of Bangladesh, Copenhagen Consensus and other analysts so that the research can be tailored to policy decision-making purposes." - Anir Chowdhury, Policy Advisor of the Access to Information (A2I) project of the Prime Minister Office (PMO)
Bangladesh Priorities identified several smart solutions to ensure a dynamic future for Bangladesh as it enters Vision 2021, using economic cost benefit analysis to inform policy debates and decision-making. The policy seminar advocated for higher spending and designing new programs or policies in order to give tailwind to the following smart solutions:
Attended by the most important stakeholders and experts of the 7th Plan from the government, NGOs and international agencies, the policy seminar discussed some of the smart solutions to addressing developmental issues of Bangladesh.