Non-Communicable Diseases
Infectious diseases get all the attention. And for a long time, these diseases were what most people around the world died from. But as we are increasingly beating back infections and live to grow older, we start dying from what doctors call non-communicable diseases (NCDs), like heart disease, strokes, cancer, and diabetes. 
Bangladesh has seen the same pattern. A study of the rural area Matlab showed that from 1986 to 2006, the share of deaths caused by communicable diseases fell from 52 percent to 11 percent. During the same period, deaths from NCDs increased from 8 percent to 68 percent. Today, NCDs are the largest killer nationwide, responsible for 59 percent of all deaths.
Proposed Strategies
| Strategy | Takas of benefits per taka spent |
| --- | --- |
| Hypertension medication | 18 |
| Tobacco tax | 8 |
| Treat and immunize cervical cancer | 0.4 |
Controlling the Burden of Non-Communicable Diseases in Bangladesh:Benefit-cost Analysis of Prevention Policies and Interventions
Research written by four eminent American economists examines several strategies to combat non-communicable diseases in Bangladesh. They find that the most cost-effective solutions are those aimed at reducing hypertension and tobacco use.
Bangladesh is in the midst of the epidemiologic transition like other South Asian nations. The burden of non-communicable diseases (NCDs) now account for a larger proportion of foregone disability adjusted life years than communicable disease, maternal and child health issues and nutrition-related causes combined."

- Koehlmoos et al.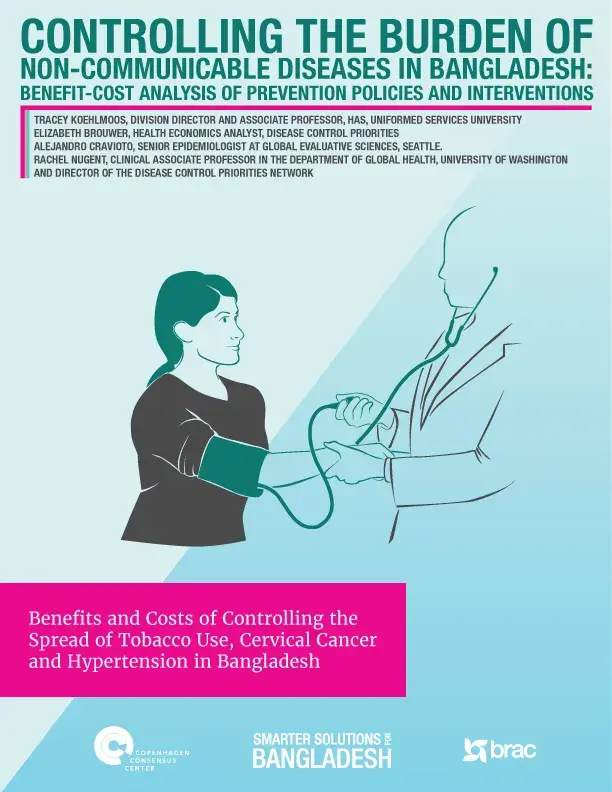 Costs and Benefits of Addressing Diabetes and Smokeless Tobacco Consumption via Community Clinics
Research by economist Rumana Huque of the University of Dhaka, considers treating diabetes and addressing smokeless tobacco consumption.  
Bangladesh is passing through a period of demographic transition where the burden of disease is shifting alarmingly from a disease profile dominated by infectious diseases to one increasingly characterised by non-communicable diseases (NCDs)."

- Rumana Huque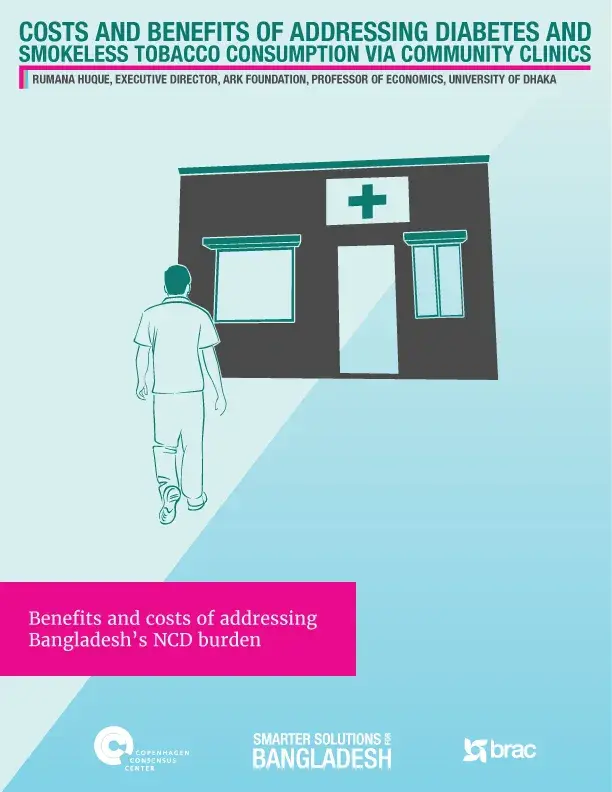 The smartest ways to fight non-communicable diseases in Bangladesh
In a series of op-eds published in The Daily Star and Prothom Alo, Bjorn Lomborg outlined the key findings of the path-breaking research produced by the Bangladesh Priorities project.
Bangladesh already has an extensive network of 14,000 community clinics that span the country, and even in rural areas, most homes are within half an hour walking distance of a clinic. This pre-existing infrastructure presents an opportunity to fight NCDs cost-effectively."

- Bjorn Lomborg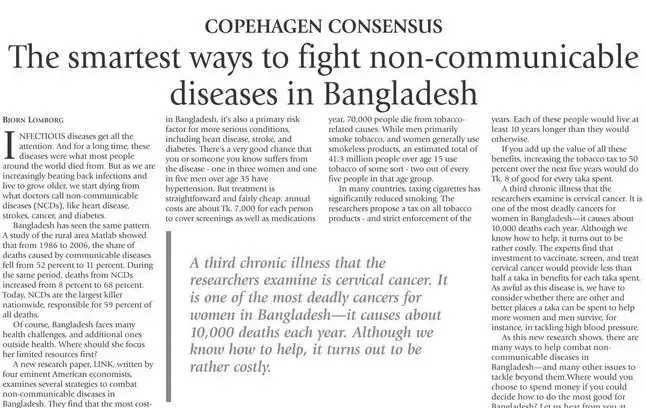 What's the smartest solution for Bangladesh?
As this research shows, there are many ways to help combat non-communicable diseases in Bangladesh—and many other issues to tackle beyond them. Where would you choose to spend money if you could decide how to do the most good for Bangladesh? After reviewing 1,000s of pages of peer-reviewed research an Eminent Panel ranked 72 solutions from the best to the worst in terms of delivering the most social, economic and environmental value for money. Find out what they ranked the highest here.