Malnutrition
Over the past two decades Bangladesh has remarkably managed to feed an increasing population better—the UN's Food and Agricultural Organization estimates that in 1993, the average Bangladeshi had access to just 2,000 calories per day, whereas today that number has increased to 2,450 calories per day. To a large extent this success comes on the back of ever-higher rice production—rice makes up 70 percent of the average daily calorie intake.
Unfortunately, rice may make an empty stomach feel full, but it lacks many vital micronutrients. The latest survey shows three-quarters of all children deficient in vitamin A. This matters, because studies show that every day, an estimated 88 children in the country go blind due to vitamin A deficiency. And each year, the condition is responsible for 28,000 deaths of children under age 6. Furthermore, chronic undernourishment leads to stunting, which hinders cognitive and physical development and affects about six million Bangladeshi children.
Proposed Strategy 
| Strategy | Takas of benefits per taka spent |
| --- | --- |
| Golden rice R&D | Up to 329 |
Returns to Golden Rice Research in Bangladesh: An Ex-ante Analysis
Research by Uttam Deb, an economist at the International Crops Research Institute for the Semi-Arid Tropics, suggests that investment in the development and dissemination of golden rice can help Bangladesh overcome vitamin A deficiency and its related blindness and deaths. Each taka spent on golden rice could do up to 329 takas of good.
Vitamin A deficiency is a serious problem in Bangladesh. Deficiency in Vitamin A severely affects small children and pregnant women. One in every five children aged 6 months to 5 years is estimated to be Vitamin A-deficient. Among pregnant women, 23.7% in Bangladesh are affected by Vitamin A deficiency."

- Uttam Deb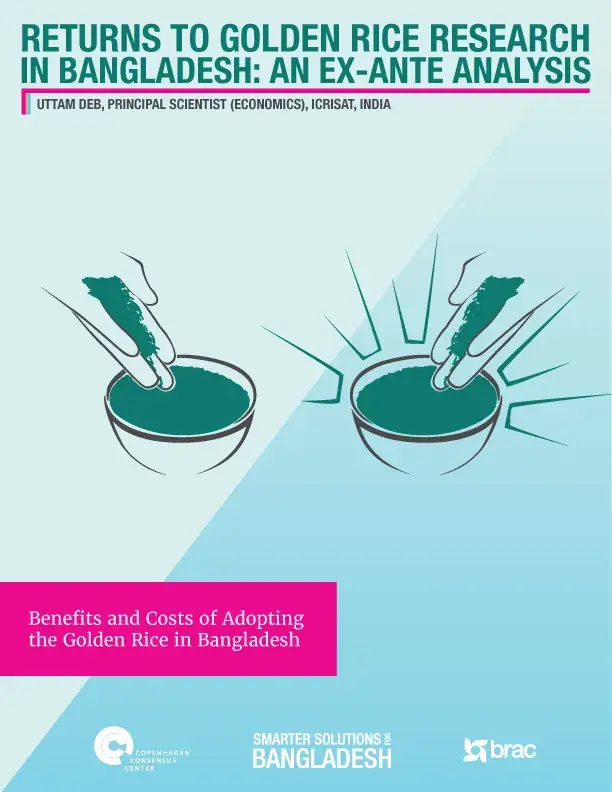 Golden rice: The malnutrition fighting crop
In a series of op-eds published in The Daily Star and Prothom Alo, Bjorn Lomborg outlined the key findings of the path-breaking research produced by the Bangladesh Priorities project.
When it comes to benefits, golden rice is not a panacea for fighting vitamin A deficiency in Bangladesh, it should rather be seen as a complement to existing initiatives that provide nutritional supplements to unreached people."

- Bjorn Lomborg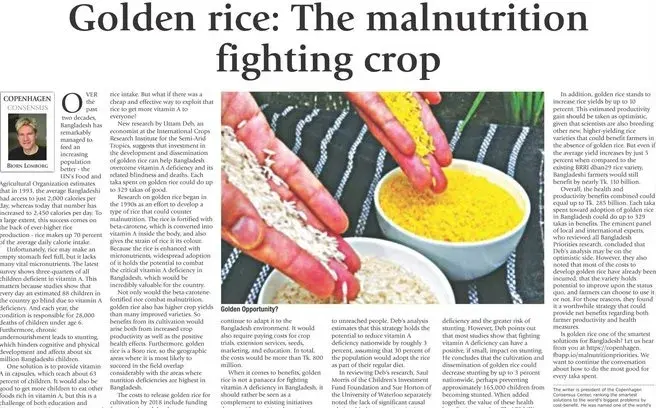 What's the smartest solution for Bangladesh?
Is golden rice one of the smartest solutions for Bangladesh? After reviewing 1,000s of pages of peer-reviewed research an Eminent Panel ranked 72 solutions from the best to the worst in terms of delivering the most social, economic and environmental value for money. Find out what they ranked the highest here.