Bangladesh Priorities Book Launch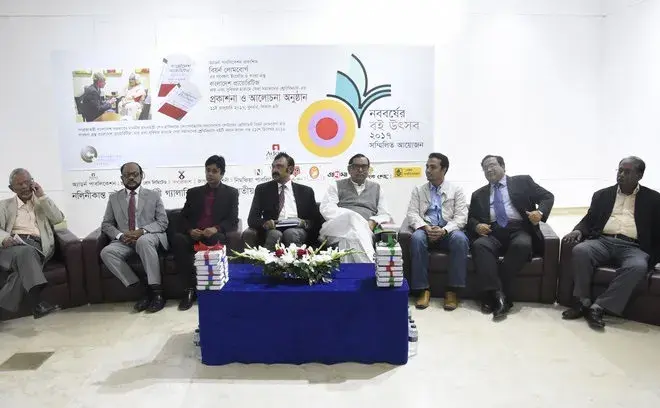 Bangladesh publisher, Adorn Books, published a short book on the project entitled Bangladesh Priorities: Ranking the smartest solutions by their benefits and costs. The book is available in both English and Bangla and is based on the article series published in Daily Star and Prothom Alo.
The book provides an excellent overview and introduction to all research findings, the outcomes from the prioritization exercises, the rural and youth forums, and presents the Eminent Panel's recommendations with short commentaries. 
The launch of the Bangladesh Priorities book was held at Nalinikanta Bhattasali Gallery of Bangladesh National Museum in Dhaka during the New Year book fair event. Minister for Civil Aviation and Tourism, Rashed Khan Menon was present as chief guest at the event alongside guests Dr Ahsan Saiyed, vice-chancellor, Islamic Arabic University; Dr Shahjahan Mahmud, chairman of Bangladesh Telecommunication and Regulatory Commission (BTRC); Anir Chowdhury, policy advisor to the Access to Information (a2I) project at the Prime Minister's Office, and Professor Dr Mostak Sharif, University of Dhaka. Kamal Uddin, economic editor of The Daily Ittefaq presided over the event.
The chief guest of the event remarked that "Bangladesh Priorities demonstrates low benefits of investing in both traditional and flexible microfinance, compared to many other possible solutions. This is certainly true of the Bangladesh context." The BRTC Chairman observed, "It is really encouraging to see some of the top priorities in Digital Bangladesh realm. More research could have been done to showcase the potential of investing in mobile technologies."
The book is attracting a lot of interest and the event was very well attended, with a good discussion of the project's ongoing advocacy and outreach, leveraging the cost-benefit research done under Bangladesh Priorities. The event was covered in the media by The Daily Observer.