Looking at solutions instead of problems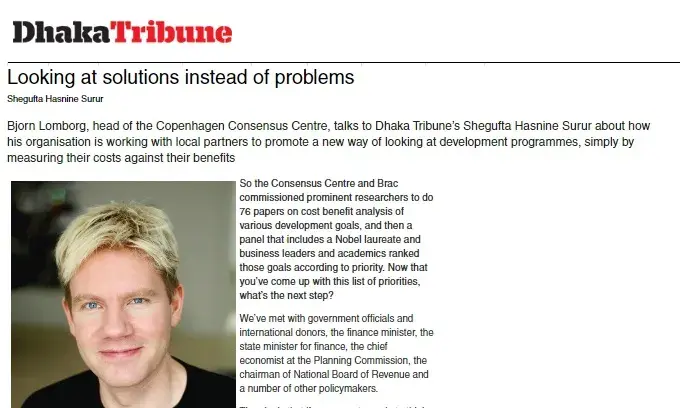 Bjorn Lomborg recently sat down with the Dhaka Tribune to discuss the outcomes from the Bangladesh Priorities Project.
We've met with government officials and international donors, the finance minister, the state minister for finance, the chief economist at the Planning Commission, the chairman of National Board of Revenue and a number of other policymakers.

The aim is that if we can get people to think this way, it becomes easier to push for good ideas and harder to push bad ideas. If we could change even one percent of the budget from what it's spent on today, which is sort of moderately good, to the best ideas, that would mean more than the entire budget over five years in benefits. So by reallocating Tk30 billion (Tk3,000cr) from your Tk3 trillion (Tk300,000cr) budget we could gain Tk3.7 trillion (Tk370,000cr) extra benefits in five years."
You can read the entire interview here.