Review Roundtable: Economic Growth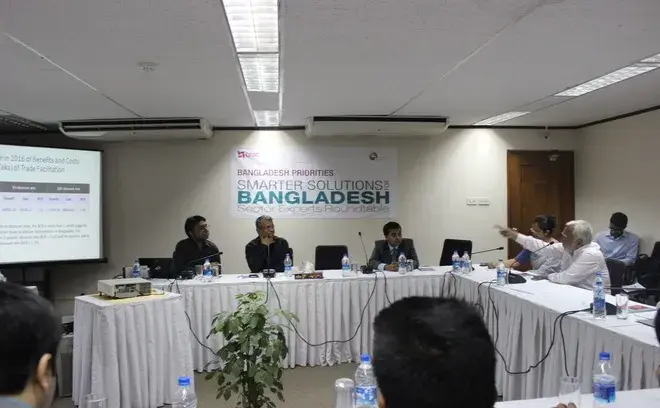 On March 16th 2016 a roundtable on "Smart ways to Accelerate Economic Growth" brought together economists and sector experts to discuss preliminary findings of research, with the aim of getting inputs from sector experts as well as fellow economists in order to improve papers and their cost-benefits analysis.
After a brief presentation on project background and present status, the researchers presented their initial research findings on benefit-Cost Analysis of Trade Liberalization and Trade Facilitation Interventions in Bangladesh, VAT Reform and Padma Bridge. From a Very interactive session by about 16 participants, the most notable recommendation and suggestions came out regarding benefits and problems of zero tariff, necessary of free trade agreements and trading blocs, cost and impact of trade liberalization for Bangladesh, relation of tariff with a country's stage of development, problem and prospects of multiple tax rate, necessity of tax automation system, and direct and indirect benefits of Padma Bridge. Attendees emphasized "Trade Facilitation and liberalization" as first priority among four interventions. They stressed on the collaborative efforts from government, Private sector, NGOs (National and International) and Donors to accelerate economic growth and development in Bangladesh. 
Prominent Attendees
Professor Abu Ahmed from Dhaka University, Dr. K A S Murshid from BIDS (Bangladesh Institute of Development Studies), A K M Mahabubur Rahman from NBR (National Board of Revenue), Suhel Ahmed Choudhury (Former Commerce Secretary & Former Chairman, Janata Bank), M. Abdur Rahman from MCCI (Metropoliton Chamber of Commerce & Industry), Md. Moniruzzaman from IDLC Investments along with other sector experts. The discussion was facilitated by Dr. Mahfuzar Rahman (Program Head, Research and Evaluation Division, BRAC) and chaired by Prof. Abdul Bayes (Director, Research and Evaluation Division, BRAC).