Top Ideas for Climate Change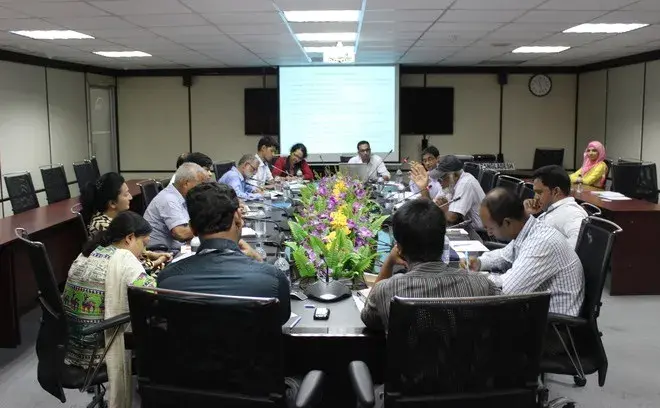 In May of 2015, Bangladesh Priorities held a roundtable of sector experts to discuss the best solutions for combating climate change in Bangladesh. Combined with in-depth interviews and review of the 26 background studies of the 7th Five Year Plan (7FYP) and the Plan itself, the most notable ideas focused on increasing community engagement in natural resource management, installation and upgrade of dikes and embankments, updating the 1992 Environment Policy, and, strengthening early detection systems. 
Proposed Ideas 
The prominent ideas arising from the roundtable are highlighted in the following presentation.
Roundtable Attendees 
Prominent discussants in the roundtable were Moyen Uddin Ahmed, Sr. Manager, BRAC DECC, Shrabana Datta, Sr. Researcher, Mesovision Consultancy Ltd., Dr. Md. Abdur Rashid, Chief Scientific Officer & Head, BRRI, Md. Quamrul Islam, Director, VERC, Dr. Sujit K. Bala, Professor, BUET, Dr. Nepal C. Dey, Sr. Research Fellow, BRAC RED, Ratnajit Saha, Sr. Research Associate, BRAC RED, Dr. Mahfuzul Haque, Adjunct Faculty, University of Dhaka, Ina F. Islam, Deputy Director, ICCCAD, IUB, Shabel Firuz, Country Director, Islamic Relief, Mahfuzar Rahman, Program Head, BRAC RED, Mizanur Rahman, Consultant, Drinkwell, and Md. Reaz Uddin Khan, Lecturer, C3ER, BRAC University.
In a hurry?
Click here to download a PDF list of all the proposed climate change ideas.