Top Ideas for Fiscal Management and Revenue Mobilization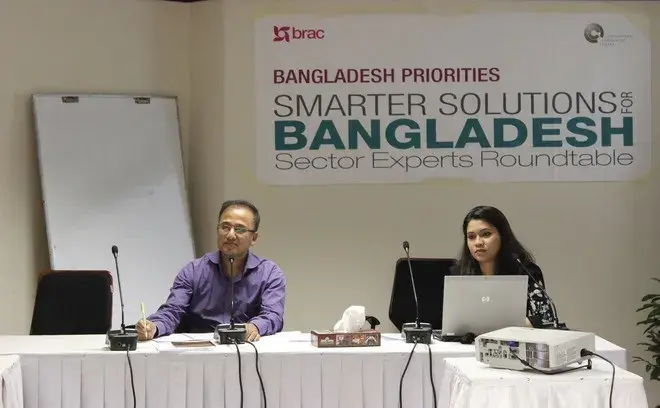 In July of 2015, Bangladesh Priorities held a roundtable of sector experts to discuss the best solutions for improving Bangladesh's fiscal management and revenue mobilization. Combined with in-depth interviews and review of the 26 background studies of the 7th Five Year Plan (7FYP) and the Plan itself, the most notable ideas focused on: decentralization of revenue collection, expediting implementation of the NBR Modernization Plan, broadening the taxpayer base with major registration drives, introducing electronic submission and return processing for income tax, reducing the number of products subject to supplementary duty from 1,400 to 200 or less, and, launching the first sovereign bond. Broad ideas focused on specific problems such as the political and economic constraints in fiscal management, promotion of development-oriented fiscal policies and accountability mechanisms in order to ensure proper implementation of VAT laws.
Proposed Ideas 
The prominent ideas are highlighted in the following presentation.
Attendees and Interviewees 
Prominent discussants and interviewees were Dr. Selim Raihan, Professor, DU & ED, SANEM, Dr. Zahid Hussain, Lead Economist, Word Bank, Dhaka, Towfiqul Islam Khan, Research Fellow, Centre for Policy Dialogue, Dr. Zaidi Sattar, Chairman, Policy Research Institute, Dr. Sadiq Ahmed, Vice Chairman, Policy Research Institute, Dr. Ahsan H. Monsur, Executive Director, Policy Research Institute, Professor Mustafizur Rahman, Executive Director, Center for Policy Dialogue, Dr. Fahmida Khatun, Research Director, Center for Policy Dialogue , Dr. Sajjad Zohir, Executive Director, Economic Research Group, Md. Asadul Islam, Economic Relations Division (ERD), Ministry of Finance, and Mr. Shaquib Quereshi, Secretary, Metropolitan Chamber of Commerce and Industry (MCCI).
In a hurry?
Click here to download a PDF list of all the proposed ideas for fiscal Management and revenue mobilization.