Top Ideas for Gender Equality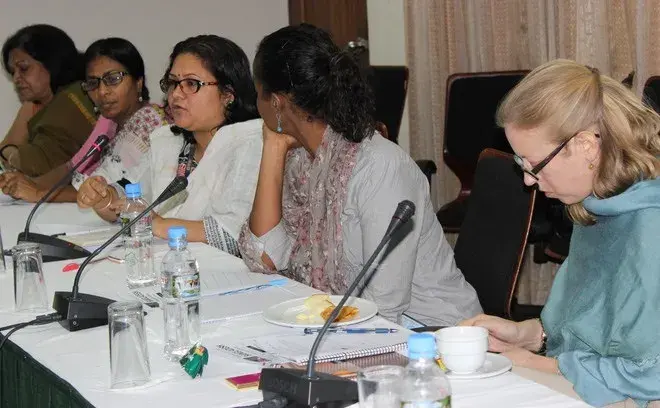 In June of 2015, Bangladesh Priorities held a roundtable of sector experts to discuss the best solutions for improving gender equality within Bangladesh. Combined with in-depth interviews and review of the 26 background studies of the 7th Five Year Plan (7FYP) and the Plan itself, the most notable ideas focused on: strengthening girls' and women's participation and proficiency in ICT usage and activities, providing safe and affordable transport system to increase women's mobility, expanding maternal health vouchers and allowance to cover women's/girls' nutritional deficiencies particularly in the calamity/poverty prone areas, distribution of khas land in the name of both spouses, strict protections against domestic violence, sexual harassment, and childhood marriages.
Proposed Ideas 
The prominent ideas arising from the roundtable are highlighted in the following presentation.
Roundtable Attendees 
Prominent discussants in the roundtable were Rokeya Kabir, ED, BNPS, Mahmuda Rahman Khan, SPD Specialist, USAID, Roshni Basu, Gender Specialist, UNICEF, Dr. Julia Ahmed, SRHR Specialist, Independent Consultant, Hosna Ara Begum, Program manager, GJD, BRAC, Toufica Sultana, RED, BRAC, Md. Shohel Rana, Program Coordinator, UN Women, Amy Regger, Research and Coordination, UN Women, Frederic Jeanjean, 2nd Secretary, Australian High Commission, Md Reazul Haque, Professor, Department of Development Studies, DU, Nasra Mire, Junior Professional Consultant, Poverty Reduction Centre, UNDP, BD, Sara Bumsted, Gender Policy Advisor, UNDP, Marielin Mridha, Program Officer, Australian High Commission.
In a hurry?
Click here to download a PDF list of all the proposed gender equality ideas.