Top Ideas for Health Systems and Access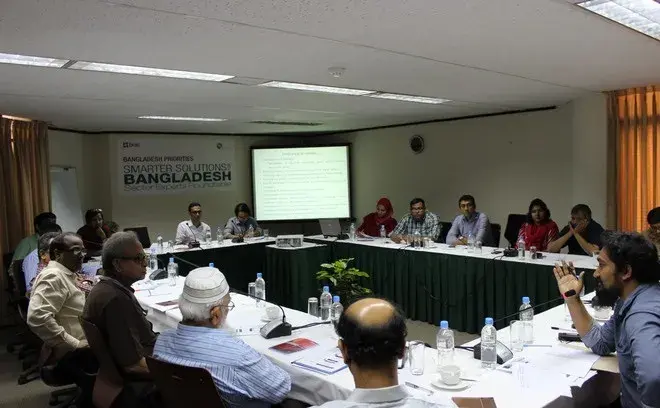 In May of 2015, Bangladesh Priorities held a roundtable of sector experts to discuss the best solutions to improve Bangladesh's health systems and access. Combined with in-depth interviews and review of the 26 background studies of the 7th Five Year Plan (7FYP) and the Plan itself, the most notable ideas focused on incorporating counselling, health rights and ethics in medical education, use of electronic health record (EHR) for an integrated health system, continue implementation of the Health, Population and Nutrition Sector Development Program (HPNSDP), providing incentives for health professionals to be located in remote/rural regions, and increasing the quality, efficiency and capacity of community health clinics.
Proposed Ideas 
The prominent ideas arising from the roundtable are highlighted in the following presentation.
Roundtable Attendees 
Prominent discussants in the roundtable were Dr. Md. Yunus, Consultant/Senior Scientist, ICDDR, Dr. Abdul Kuddus, Project Manager, PCP, Diabetic Association of Bangladesh, Dr. Jahiruddin Ahmed, Interim Chair, DM&N, BRAC University, Dr. Mahbub Elahi, Scientist, ICDDR B, Dr. Mohammod Abdus Sabur, Consultant, Freelance, Dr. Quazi Al Mamun Siddiqii, Senior Manager-TB, BRAC, Dr. Musarrat Parvin, Tahsin Ifnoor Sayeed, M&E Specialist, DNET, Dr. Fida Mehran, Head Content (Deputy Director), DNet, Dr. Mahfuzur Rahman, Program Head, BRAC, Dr. Bayzidur Rahman, Assistant Professor, UNSW, Anita Sharif, Research Fellow, RED BRAC, Iqbal Anwar, Scientist, ICDDR B, Md. Mahbubul Kabir, Senior Research Fellow, BRAC, Nusrat Khan, Research Associate, RED BRAC, Dr. Tariqul Islam, PD, URB, Mr. Mashreky, Director, CIPRB, Moktadir Kabir, TB & Malaria Program ,BRAC, and Md. Akramul Islam, Director TB, WASH and DECC, BRAC.
In a hurry?
Click here to download a PDF list of all the proposed health systems and access ideas.