Top Ideas for Migration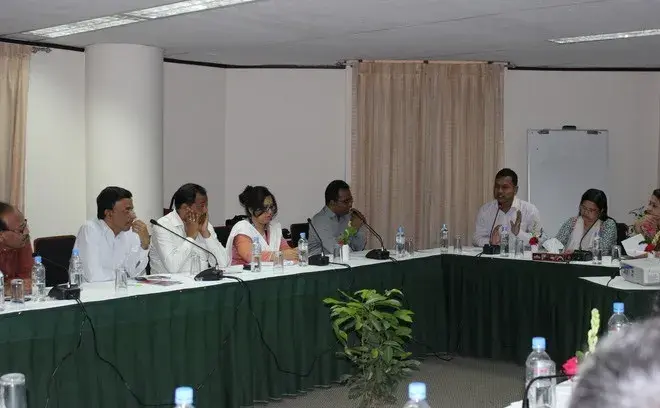 In May of 2015, Bangladesh Priorities held a roundtable of sector experts to discuss the best solutions in terms of leveraging migration as a development intervention in Bangladesh. Combined with in-depth interviews and review of the 26 background studies of the 7th Five Year Plan (7FYP) and the Plan itself, the most notable ideas focused on improving multi-modal transport for more rural-urban migration, encouraging seasonal regional to urban migration during monga, establishing a star-rating system to highlight best performing recruitment agencies, installing a verification process of visa and passports at the Union Digital Centers (UDCs), and, more interestingly, registering middlemen of recruitment agencies for formalizing their roles in the migration process. 
In addition, sector experts stressed the need to make language courses affordable for migrant (specifically, English and Arabic) for success abroad. Other notable ideas to arise were: implementation of existing policies to ensure the rights and safety of migrant workers and minimizing pre-migration costs.
Proposed Ideas 
The prominent ideas arising from the roundtable are highlighted in the following presentation.
Roundtable Attendees 
Prominent discussants in the roundtable were Sabina Saeed, UN Women, Program Associate, Modasser Hossain, DAM, Program Manager, Ahdur, Raquib, SHISUK, Program Officer, Sabiha Laizu Nishi, SHISUK, Program Coordinator, Farhad AL Karim, BRAC Migration, Field Coordinator, Pulak Ranjan Dhor, BCWWF, CS, Hassan Imam, BRAC, Program Head, Syed Mahbub Elahi, OKKAF, Chairman, Sadia Karim, BRAC, Program focal & field Coordinator, MD Tazul, Islam, BMET, Director (EM), Karol Larpinsici, World Bank, OPS Analyst, Max Pottler, IOM, Project officer, Md. Abir Hasan, World Bank, Research Analyst, Mahbuba Haque, INAFI, Associate Director, Ranjit Ch.Das, BASTOB, Head of Program, Sohela Jasmeen, S.F.M.M.T.T.C, Senior Instructor, Suparna Roy, Coordinator, Access to Information (a2i).
In a hurry?
Click here to download a PDF list of all the proposed migration ideas.