Top Ideas for Non-Communicable Diseases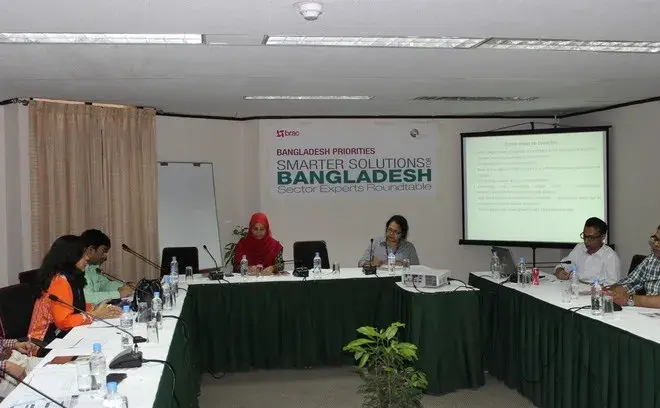 In May of 2015, Bangladesh Priorities held a roundtable of sector experts to discuss the best solutions for addressing non-communicable diseases (NCDs) in Bangladesh. Combined with in-depth interviews and review of the 26 background studies of the 7th Five Year Plan (7FYP) and the Plan itself, the most notable ideas focused on specific challenge areas such as tobacco (e.g. taxation and effectiveness of anti-tobacco campaigns), food and dietary habits, effects of arsenic contamination in ground water, capacity of clinics to provide NCD related services, and affordability and availability of cervical and breast cancer treatments. Overall, scaling up of NCD health promotion activities through behavior change communication (BCC), increasing capacity of service providers to treat NCDs in rural health centers, and, more government financial support for researchers in the field of NCDs were identified as three major challenges.
Proposed Ideas 
The prominent ideas arising from the roundtable are highlighted in the following presentation.
Roundtable Attendees 
Prominent discussants in the roundtable were Dr. Sohel Reza Chowdhury, Professor of Epidemiology, National Heart Foundation Hospital & Research Institute, Dr. Ali Tanweer Siddiquee, Senior Research investigator, NCD Cell, ICDDR, Dr. MD. Rashidul Hassan, Director, NIDCH, Dr. MahbubElahi, Scientist, ICDDR, Dr. Muhammod Abdus Sabur, Consultant, Dr. Md. Yunus, Consultant/Senior Scientist, ICDDR, Dr. Tariqul Islam, PO, URB, Dr. Samar Kumar Hore, Senior Research Investigator, ICDDR, Dr Mahfuzar Rahman, Program Head, RED, BRAC, and Dr. Fariha Haseen, BSMMU.
In a hurry?
Click here to download a PDF list of all the proposed non-communicable diseases ideas.