Promises to Keep Crafting Better Development Goals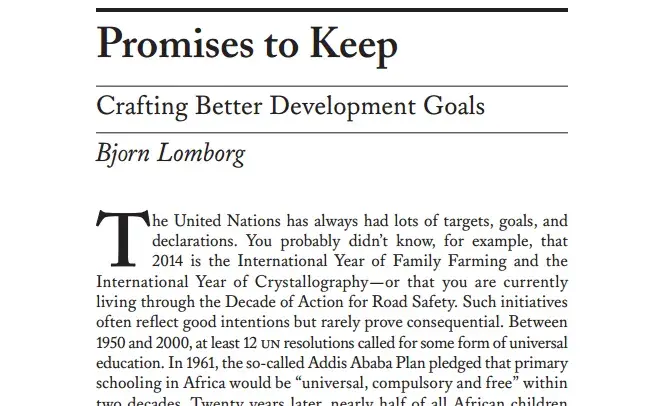 The November/December 2014 issue of Foreign Affairs features an 8 page article by Bjorn Lomborg. The article entitled "Promises to Keep Crafting Better Development Goals", highlights the work of the Post-2015 Consensus project and the valuable knowledge the project is injecting into the post-2015 debate. 
The original MDGs worked precisely because they were limited in scope. If the next goals are going to have any chance at success, the un needs to concentrate on where dollars can do the most good, parting with most of the currently proposed targets and sharpening those that remain. To that end, my think tank, the Copenhagen Consensus Center, has launched a project to determine which proposed targets are most likely to do the greatest good and categorize them accordingly. Together with top economists, the center has tested this approach on the Open Working Group's various draft lists. Simultaneously, we are collaborating with an even larger group of experts to produce thousands of pages of peer-reviewed research about the effectiveness of 50 of the most prominent targets. The results will be published throughout the fall and winter of 2014. Then, in early 2015, three Nobel laureates will evaluate all the research to create an authoritative ranking.

To distinguish among various targets, we use a basic color scheme. We highlight the very best targets in dark green -- those that will do more than 15 times as much economic, social, and environmental good as they cost. We color those that will bring between five and 15 times as much benefit in light green and paint the mediocre ones yellow. And we make red those that will cost more than they yield in benefits. These simple categories are meant to help the world's busy decision-makers focus on picking the most effective targets. In our assessment of the Open Working Group's final list, we identified 13 dark green goals and nine red ones. Some of the results were intuitive and others were provocative. Taken together, they drove home a critical message: not all targets are equally worthwhile."
Click here to read the entire article on Foreign Affairs