Nobel Laureates Guide to Smarter Global Targets to 2030
Prioritizing 19 targets instead of the UN's 169 targets is equivalent to doubling or quadrupling foreign aid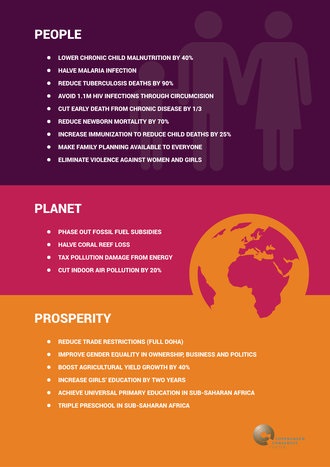 Over the past 18 months, we have published 100+ peer-reviewed analyses from 82 of the world's top economists and 44 sector experts along with many UN agencies and NGOs. These have established how effective 100+ targets would be in terms of social value-for-money. 
An Expert Panel including two Nobel Laureates has reviewed this research and identified 19 targets that represent the best value-for-money in development over the period 2016 to 2030, offering more than $15 back on every dollar invested. In a hurry? Download the graphic overview here.
People
Lower chronic child malnutrition by 40%
Halve malaria infection
Reduce tuberculosis deaths by 90%
Avoid 1.1 million HIV infections through circumcision
Cut early death from chronic diseases by 1/3
Reduce newborn mortality by 70%
Increase immunization to reduce child deaths by 25%
Make family planning available to everyone
Eliminate violence against women and girls
Planet
Phase out fossil fuel subsidies
Halve coral reef loss
Tax pollution damage from energy
Cut indoor air pollution by 20%
Prosperity
Reduce trade restrictions (full Doha)
Improve gender equality in ownership, business, and politics
Boost agricultural yield increase by 40%
Increase girls' education by 2 years
Achieve universal primary education in sub-Saharan Africa
Triple preschool in sub-Saharan Africa
Reaching these global targets by 2030 will do more than $15 of good for every dollar spent.
The expert analyses suggest that if the UN concentrates on 19 top targets, it can get $20 to $40 in social benefits per dollar spent, while allocating it evenly across all 169 targets would reduce the figure to less than $10. Being smart about spending could be better than doubling or quadrupling the aid budget" - Bjorn  Lomborg.
The work of the economists could be a game-changer for the UN's negotiations over the coming months. While the 169 targets that are currently on the table are undoubtedly well-intentioned, some targets prove to generate much higher economic, social and environmental benefits than others. With limited resources, governments should forgo the instant gratification of promising everything to everyone, and instead prioritize the most effective development goals.
Media coverage around the world has begun reporting on the expert panel's 19 targets that represent the best value-for-money in development over the period 2016 to 2030. Read more from Reuters as reported in the  New York Times, and more about the Nobel recommendations in the newspapers of record in Germany (Frankfurter Allgemeine Zeitung) and Chile (El Mercurio), and major Mexican newspaper Milenio. 
Click here for PDF versions of the expert panel's recommendations and high-resolution images for press and here for Spanish versions. 
Click here for information on the expert panel's recommendations in Spanish.