Post-2015 Consensus Review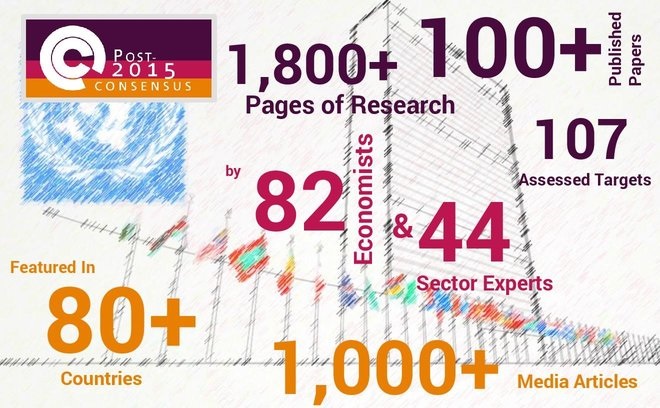 Over six months we have released more than 100 publications across a wide range of research topics, from air pollution to energy to gender equality.  
These publication were authored by 82 renowned economists and 44 experts from NGOs, businesses and UN agencies. 
In total we have provided you specific information on the social, environmental and economic costs and benefits of 107 targets for the next development agenda. 
Our research has been featured in more than 1000 articles across more than 80 countries worldwide. 
Now, we are now taking this information to the young people in the developing world through a series of youth forums – asking them to priorities targets for the next development agenda.
All of this is important because in less than 200 days the final development goals for the next 15 years will be set at the UN General Assembly. We still have time to convince Ban Ki-Moon and our U.N. ambassadors that they can be just as proud of the 100-plus targets they cut as they will be of the few dozen they end up with.
"Focusing on what is smartest, rather than what feels best, could be the single best thing we can do these next 15 years."

– Bjorn Lomborg