Microfinance
For decades in Bangladesh, microfinance has helped increase income and consumption for the poor, ensured food security for many, created employment opportunities, and empowered women. Nearly 700 microfinance institutions operate in the country today according to the Credit and Development Forum, disbursing approximately Tk 647 billion (Tk 64,700 crore) to 3.4 crore active borrowers.
The early success of microfinance in many places around the world caused some to praise it as a panacea for economic development. More recently, however, some critics have worried that poorer borrowers can become trapped in a spiral of debt, or that entry by for-profit entities has caused microfinance to lose its moral compass. The truth lies somewhere in the middle.
Proposed Strategies
| Strategy | Takas of benefits per taka spent |
| --- | --- |
| Traditional Microfinance | 1.7 |
| Flexible Microfinance | 2 |
Traditional Versus Flexible Microfinance in Bangladesh
New research by Subir Bairagi, an economist at the Institute of Policy and Social Sciences (IPSS), and Wasel Bin Shadat, executive director of IPSS and lecturer of econometrics at the University of Manchester, shows that incorporating flexible repayment models into microfinance can increase its benefits, particularly to borrowers. Each taka spent on these aims stands to do more than 2 takas of social good.
Even though traditional microfinance has made an impact on Bangladeshi society to some extent, it is difficult to define the degree of impact of microfinance on the "ultra poor" because of prevailing rigidity in the system."

- Dr. Subir Bairagi & Dr. Wasel Bin Shadat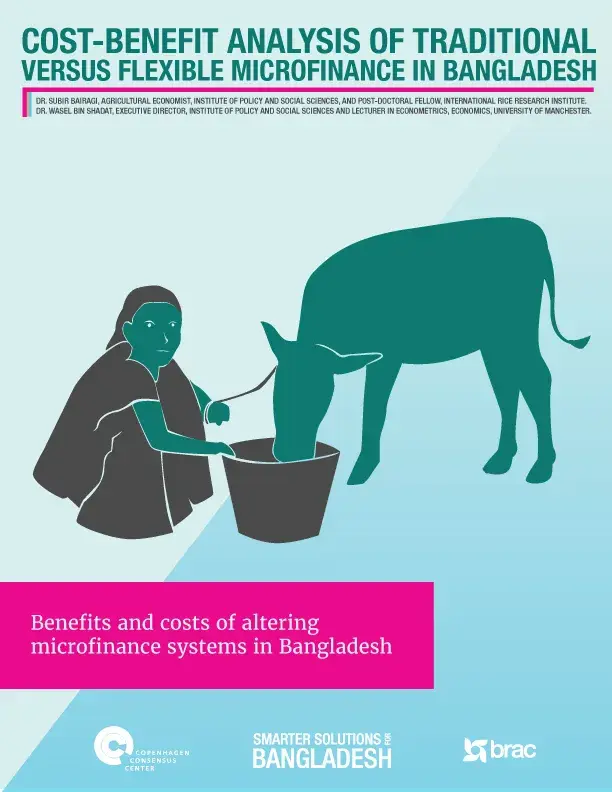 Flexible microfinance models - For more economic opportunities
In a series of op-eds published in The Daily Star and Prothom Alo, Bjorn Lomborg outlined the key findings of the path-breaking research produced by the Bangladesh Priorities project.
While microfinance may not be a cure-all that can eliminate poverty worldwide, it can produce positive - if modest - benefits. And new research from Bangladesh Priorities highlights an innovation in microfinance that promises to boost those benefits even more."

- Bjorn Lomborg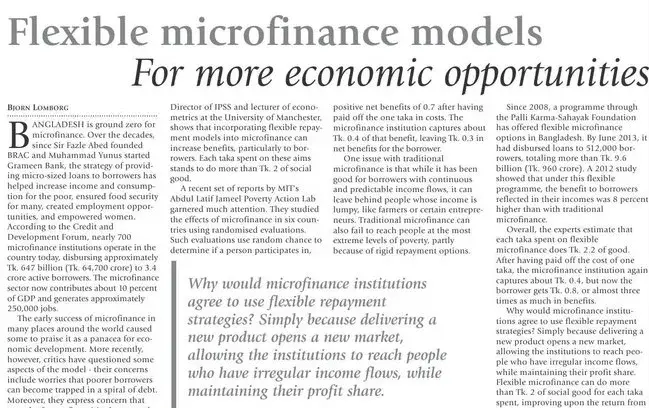 What's the smartest solution for Bangladesh?
Flexible microfinance can do more than Tk. 2 of social good for each taka spent, improving upon the return from traditional methods. But, do you think it should be a priority? After reviewing 1,000s of pages of peer-reviewed research an Eminent Panel ranked 72 solutions from the best to the worst in terms of delivering the most social, economic and environmental value for money. Find out what they ranked the highest here.