Transportation Infrastructure
Infrastructure investment can act as a multiplier, promoting economic activity and removing barriers to growth. Transportation infrastructure is of particular interest in Bangladesh because it can decrease operating costs, increase time-savings and boost GDP."There is limited funding for infrastructure, and various transportation projects could produce benefits for Bangladesh," said Dr. Bjorn Lomborg, President of the Copenhagen Consensus Center. "Bangladesh Priorities can help identify the smartest investments in infrastructure to help bolster the nation's economy."
Proposed Strategies
| Strategy | Takas of benefits per taka spent |
| --- | --- |
| Padma Bridge | 1.9 |
| Unrestricted roads to North East India | 2 |
Economic Cost-Benefit Analysis: Padma Bridge Project
Research by Ashikur Rahman, senior economist at the Policy Research Institute of Bangladesh, and Bazlul Khondker, economics professor at the University of Dhaka, shows that even though the longstanding Padma Bridge project has been hindered by significant delays and cost overruns, the project is still cost beneficial. Every taka spent on the bridge would do about 2 takas of social good.
By facilitating transportation across the river, the bridge is expected to lead to a greater integration of regional markets within the Bangladeshi national economy."

- Ashikur Rahman & Bazlul Haque Khondker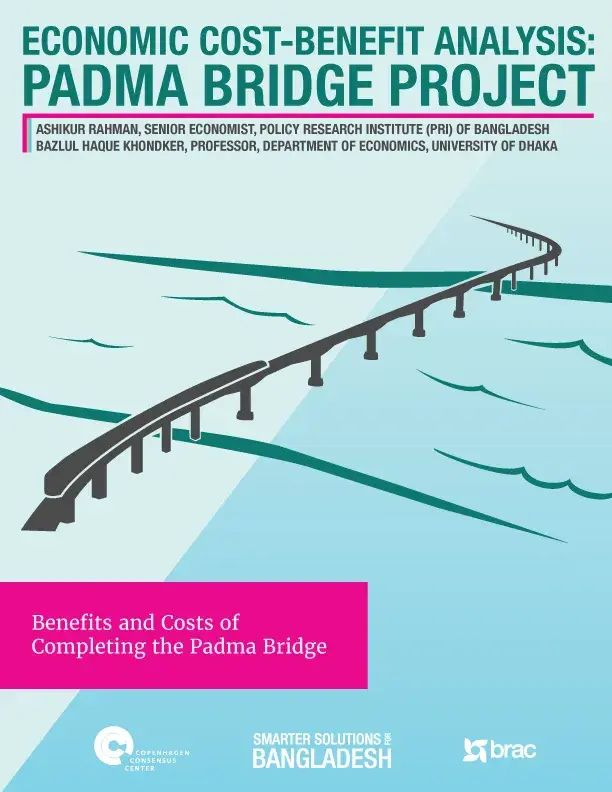 Cost-Benefit Analysis of Cooperation in Motor Vehicle Agreement in Bangladesh, Bhutan, Inia and Nepal Region
Research by Kazi Mahmudur Rahman, assistant professor of development studies at the University of Liberal Arts Bangladesh, and Md. Tariqur Rahman, an economic consultant, examined potential benefits from a different strategy: vehicle agreements between nearby countries that are designed to encourage trade.
An integrated and efficient surface transport network is an essential element for enabling economic cooperation at any level, including linkage to any regional or global supply chains. However, until now, South Asia has continued to remain the most disconnected region in the world, with high costs of trading across border and lack of transport cooperation."

- Dr. Kazi Mahmudur Rahman & Md. Tariqur Rahman
Linking economies through transportation infrastructure
In a series of op-eds published in The Daily Star and Prothom Alo, Bjorn Lomborg outlined the key findings of the path-breaking research produced by the Bangladesh Priorities project.
More than six kilometres of water separate the southwest region from the rest of Bangladesh. The longstanding Padma Bridge project holds potential to span that gap both physically and economically, linking the region with Dhaka, Chittagong, and the rest of the country to the east."

- Bjorn Lomborg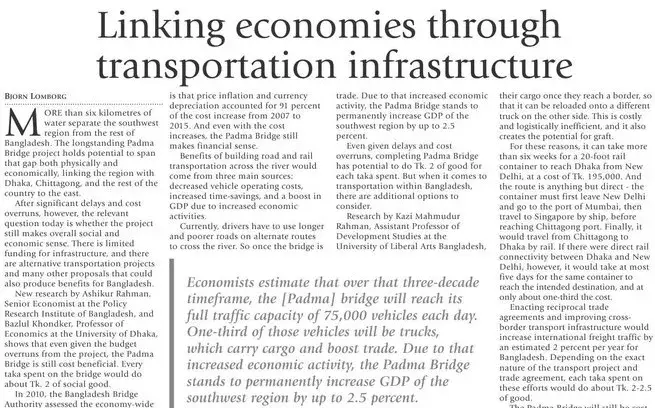 What's the smartest solution for Bangladesh?
The Padma Bridge will still be cost-beneficial, and other improvements in transport infrastructure could improve trade and economic growth for Bangladesh. What transport strategies would you choose to help the country prosper? After reviewing 1,000s of pages of peer-reviewed research an Eminent Panel ranked 72 solutions from the best to the worst in terms of delivering the most social, economic and environmental value for money. Find out what they ranked the highest here.